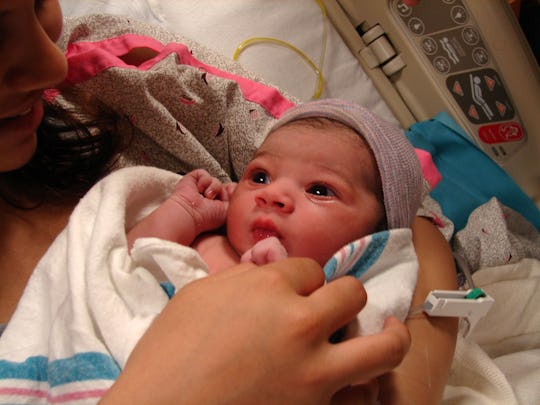 Courtesy of Mishal Ali Zafar
If You're Planning On Formula Feeding, Here's What The Hospital Will Provide
As your due date nears, you are probably putting the finishing touches on your nursery, assembling all your last minute baby gear, and finally packing your hospital bag. You've got everything your baby will need at home, but you may not know what you'll end up needing at the hospital. To fulfill your hunger pangs, you might be packing your favorite snacks, but what about your baby? If you aren't planning on breastfeeding, do you have to bring your own formula to the hospital?
From my own experience delivering my babies, and seeing my friends and family deliver in different hospitals in different states, I've found that most hospitals do provide formula for newborns for the duration of their stay. Jessica Zablan, doula, maternity expert, and owner of The Birth & Baby Company, tells Romper that most hospitals supply you with everything you will need right away. She says that it's a good idea to familiarize yourself with your hospital ahead of time through a registration tour. "This is where you are going to learn about what the hospital has to offer," explains Zablan, "and you'll get to know what their protocols are, where to go when you are in labor, and decide if the hospital is the right fit for you."
However, if your hospital is designated as a "baby-friendly" facility, you might not be offered formula right away. The "baby-friendly" initiative, called Baby-Friendly USA, was started through the World Health Organization (WHO) and Unicef. On their website, they noted that the hospitals they work with will assist new moms with the knowledge, skills, and confidence to initiate breastfeeding, and they may not promote formula brands or hand out formula company swag like other hospitals do. The hospital I delivered in was not a "baby-friendly" hospital at the time, so I was given a free Similac baby bag with tons of Similac coupons and free samples without even asking for it.
This is why it is really important to get yourself acquainted with your hospital beforehand, and if needed, you should let your OB-GYN or health care team know that you are planning on formula feeding. Zablan says that some hospitals don't need you to register because your provider might be in the system or because your doctor's office is within the hospital. If this is the case, you should talk to your doctor, or the hospital's maternity representative, to get more information on their practices and what they provide.
You can always pack your choice of formula if it gives you peace of mind, but there's no guarantee you'll get to use it right away. Depending on your baby's specific health and condition, there may be nutrients or supplements that need to be increased or decreased, so make sure to talk to your baby's nurse or the pediatric staff before feeding your baby any store bought formula. Before you leave the hospital, your pediatrician may even advise you on the best formula brand or type to use for your baby, so don't bulk up on formula just yet, because the last thing you want is a stockpile of unusable formula lying around the house.
If you are unsure of what else to bring to the hospital, Zablan has a free labor checklist on the Birth and Baby Company website that you can use to check out which essentials to pack. Getting ready for labor, delivery, and a newborn can be a daunting task, but with the right information and preparation, things should go smoothly. The best part is that when your baby finally does comes home, he'll have everything he needs — ready and waiting.
Check out Romper's new video series, Bearing The Motherload, where disagreeing parents from different sides of an issue sit down with a mediator and talk about how to support (and not judge) each other's parenting perspectives. New episodes air Mondays on Facebook.