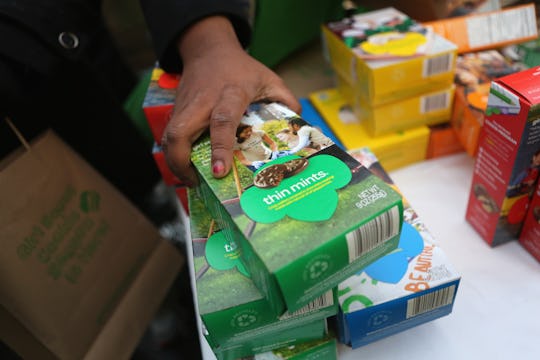 John Moore/Getty Images News/Getty Images
Here's How To Order Girl Scout Cookies Online
Long before pumpkin spice lattes emerged as a must-have seasonal treat, Girl Scout Cookie season ruled the calendar. As soon as the vested girls appeared in your neighborhood, fans of Thin Mints, Do-si-dos, and Samoas flocked to their sales tables. But now these cookies are available online any time. With this in mind, do you have to have Amazon Prime to get Girl Scout cookies online? This online ordering process may come with a few catches.
First, it is official: you can indeed purchase boxes of Girl Scout cookies on Amazon.com, as explained on Refinery29. (Cue the heavenly chorus.) And although several of the cookie boxes can be purchased with Amazon Prime, it looks like the cookies are available for those without the service as well. If you do use Prime, then a box of Tagalongs can show up at your door in two days' time.
That said, there are a few other things to take into consideration when purchasing Girl Scout cookies via Amazon. Because you are working with third-party sellers, there is some variation in quality control. In other words, some Amazon reviews claim the cookies arrived stale, melted, or broken. They are not guaranteed to be the fresh batch of cookies your local Girl Scout troop provides.
In addition, the luxury of year-round Thin Mints costs more than the average price. Although Girl Scout cookie prices will vary based on your location in the country, the direct prices currently top out at $5 per box, according to TIME Magazine. In contrast, the Amazon sellers charge about $10 per box, and shipping may still be a concern. Basically, the laws of supply and demand affect everything, even secondhand online Girl Scout cookies.
Lastly, some people have taken issue with the fact that Girl Scout cookies are being sold in this manner at all. As noted by the Girl Scouts of the United States of America's (GSUSA) official website, purchasing cookies from sources such as Amazon or eBay does not help support your local Girl Scout program. In addition, the GSUSA offers the Digital Cookie platform for its participating Girl Scouts to use for official online sales so you can still shop for Thin Mints from the comfort of your own home. But if you absolutely need a box of Samoas in the next 48 hours (hey, I feel you), then Amazon is an option.