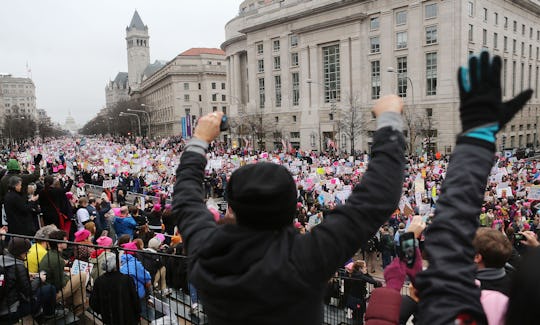 Mario Tama/Getty Images News/Getty Images
Here's How To Register For The 2018 Women's March
The year 2017 kicked off with millions of people of all identities gathering in solidarity across the far reaches of the globe to vow that women's rights are recognized as human rights. They marched streets worldwide on Jan. 21, 2017, the day following the presidential inauguration. And the year ended in the same vein, with campaigns like Time's Up — the movement against sexual harassment in response to what's become recognized as the "Weinstein effect" and the #MeToo campaign. With renewed vigor and even louder voices in the new year, a lot of people are wondering, do you need to register for the 2018 Women's March? If you want to get involved, you might want to register regardless of whether it's a necessity.
On Jan. 21, 2018, the Women's March organizers are calling on thousands to join them in Las Vegas, Nevada, to celebrate the event's one-year anniversary and to launch its 2018 Women's March agenda, #PowerToThePolls. The event will be held from 10 a.m. to 4 p.m. Pacific Standard Time, according to its website, and will kick-off with a national voter registration and mobilization tour that'll be targeting swing states and primarily encouraging prospective voters to register. The tour also plans to engage impacted communities, advocate for new policies and informed candidates, and collaborate with partners to elect more women and progressives to office.
While Women's March Chapters are also organizing state-specific anniversary events including marches of their own, the main event will be in Vegas. It's starting in Nevada because the swing state has recent experience with issues facing women today. According to the website, the state "was rocked by the deadliest mass shooting in modern U.S. history, recent sexual assault allegations against elected officials, and has become a battleground state that will shape the Senate in 2018."
This year, there are already more than 200 Women's March events planned around the world for Saturday, Jan. 20, as well as some additional events planned for Sunday, Jan. 21, according to the "Power to the Polls" website. The Women's March Alliance offers a full list of these events on its Facebook page. But those interested in participating in Nevada's event can register through the Women's March official website here. According to the RSVP page, registration is free but closes on Jan. 23, and the organization will stop taking donations with registrations on Jan. 21.
Last year, a lot of people who showed up at the march weren't actually registered and the unexpected crowds made it difficult to regulate the more than 670 planned events around the world. The Women's March on Washington had initially only sought a permit for gathering 200,000 in the capital, according to Reuters, but nearly half a million showed up in D.C. alone, Fast Company reported. That's an estimated three times as many people as Trump's inauguration, according to The New York Times. In fact, the Washington Metropolitan Transit Authority recorded about 275,000 trips as of 11 a.m. on the morning of the march, compared to just 193,000 ahead of Trump's inauguration, according to The Guardian.
Of course, Las Vegas is not as close to other large liberal cities as D.C. is, which might make it more difficult for people to travel there, but the Women's March organizers are expecting another impressive turnout for the second annual event, according to CBS. No one expected last year's march to be even half as big as it was, so perhaps the people who skipped out on it for that reason will want to jump on the bandwagon this time around — which means that there's a chance this year could top last year's numbers. So you may want to register just to give event organizers a better idea of the crowd sizes.
Regardless, it's important for the Women's March organizers to set boundaries (even if they weren't met last year) to keep things under control. Turning the Women's March into a free-for-all could turn cities off from hosting it and make it more difficult to obtain permits in the future. That's not good for anybody, but registering will help the organizers plan and prepare.
And, of course, registering makes you part of the statistic — part of history. While crowd scientists did a lot of estimating last year, it's a lot easier for them and the organizers to confirm numbers when more people are actually registered. And the more we are by the number, the louder we are.
So whether or not you technically need to register, it's worth clicking that little red button that'll less than a minute of your time.
Check out Romper's new video series, Romper's Doula Diaries:
Watch full episodes of Romper's Doula Diaries on Facebook Watch.