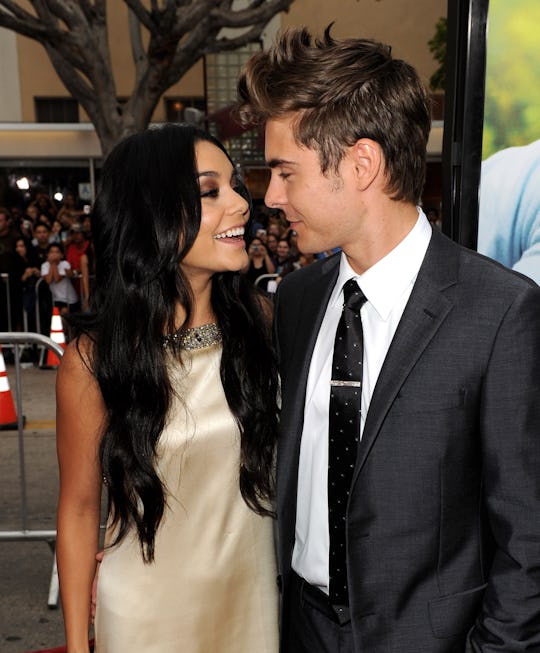 Kevin Winter/Getty Images Entertainment/Getty Images
Do Zac Efron & Vanessa Hudgens Still Talk? Not So Much
Vanessa Hudgens and Zac Efron might have once been the High School Musical couple of our dreams, but that was a long time ago. The two heartthrobs, now in their late 20s, broke up in 2010, and by all accounts it wasn't pretty. But do Zac Efron and Vanessa Hudgens still talk? High School Musical 4 is actually a thing now, but will the two come together or at least hangout for the premiere?
Nope. In fact, Hollywood Life reported that Hudgens wasn't going to attend the 10th anniversary celebration of High School Musical if Efron was going to be there. Luckily for Hudgens, but sad for every Troy Bolton fan, Efron wasn't able to make it to the reunion anyway. An unamed source called the breakup between Efron and Hudgens "horrible" and added they wouldn't have felt "comfortable faking it in front of the cameras."
So they wouldn't want to have to do any... acting? That doesn't sound all that hard, but those young breakups can be tough. Although it's unclear specifically why Efron and Hudgens still have such bad feelings toward each other, Hudgens said something pretty vague about the breakup in an interview with the New York Times about how all the attention Efron got from all the babes made her a bit jealous. And who wouldn't be? Zac is bananas handsome and a teenage heart throb. Any girl would feel a bit of pressure to keep the attention of a guy everyone lusted after.
"I went through a phase when I was really mean because I was so fed up," she told the Times. "Girls were running after him, and I was giving them death stares. Then I realized that's not what that's about."
And teen girls with a major crush can get a little unhinged. Here's just one example of the insanity Hudgens was dealing with.
Now that Disney said High School Musical 4 is in production, fans' thoughts and hearts will obviously go out to the OG Wildcats including Efron and Hudgens. But alas, since they're now pushing 30, it probably would look a little off to have them playing high schoolers. But, needless to say, fans were not pleased to hear the news that they probably won't return.
Really not pleased.
Here's the couple during happier times, at their 2005 High School Musical audition. So young. So sweet!
And here they are in 2009, not long before the big breakup.
And even though their love is now dead, we'll always have 2006.
Maybe High School Musical 4 will give fans a new "it" couple to fall in love with all over again.