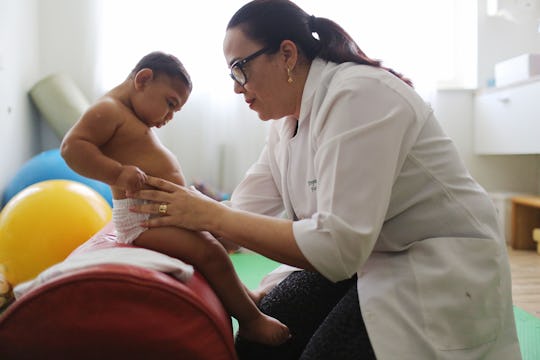 Mario Tama/Getty Images News/Getty Images
Doctors Link Zika To Heart Problems In Adults
With spring officially arriving in just 10 days, people are bound to spend more time enjoying the warm weather outdoors. But anyone who has spent some time outside knows that the arrival of the warm weather means the arrival of mosquitos — and the resurgence of Zika. There is only so much people know about Zika — and there is still so much that people are learning, like just recently doctors linked Zika to heart problems — which means we're now closer to knowing the multitude of effects Zika has on adults.
Doctors have found a possible link to Zika and heart problems in patients for the first time, according to ABC News. This is great news for those wondering what kind of effects the virus could have on adults, other than the known symptoms of Zika. Unfortunately, according to ABC News, there is not enough evidence to prove a major link between heart problems and Zika and tell how often this is happening.
What evidence exists right now? In Venezuela, out of nine adult patients with Zika and no history of cardiovascular problems, eight patients developed a heart rhythm problem and two-thirds of those patients had heart failure, according to Science Daily. While this is not considered a large sample, it does provide a major link that could help scientists in understanding the effects of Zika on adults.
This is a breakthrough for researchers still trying to know the effects and symptoms of the virus in adults, which already has known effects on pregnant women and infants. According to Science Daily, even the study's lead author, Dr. Karina Gonzalez Carta was "surprised by the severity" of cardiovascular issues linked to Zika in the small number of patients sampled.
This finding can mean big things for the approach that doctors take towards people infected with the virus. Things like heart issues should no longer be taken lightly by doctor or patient. "Following this research, we want patients who are suffering from Zika symptoms also to be aware of the cardiac symptoms because they might not connect the two," Carta said, according to Science Daily.
With warm weather right around the corner, it is important for people to remember that Zika is still a threat linked to birth defects and neurological complications. On Friday, for the first time since November, the Centers for Disease Control and Prevention updated its list of countries with locally transmitted Zika, or countries that have mosquitos carrying Zika, according to Business Insider. This means it is also important for people to become familiar with the ways to prevent mosquito bites.
With warm weather comes mosquitos and the resurgence of Zika. This new link to Zika can help people learn more about the mysterious virus.