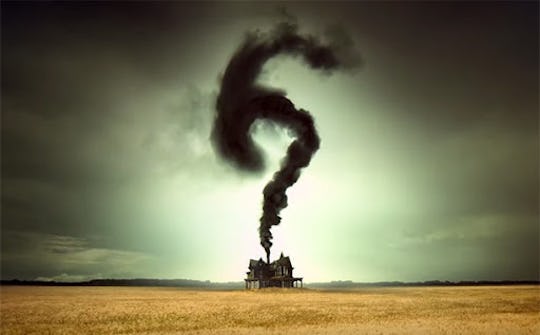 FX
Does 'AHS: Roanoke' Connect To Helter Skelter? It Could Be A Reference To Season 1
In the second episode of American Horror Story: Roanoke, the show dipped into the past of the haunted farmhouse that is – so far – the main setting of the season. It stuck to the semi-recent past, however, by reliving the violent murders that had occurred in the house while it was a retirement home in the 1980s. It was revealed in a series of dreams, visions, and flashbacks with some of the action narrated by Dr. Elias Cunningham, a former resident of the house who had been writing a book about the murders. During his frantic, fast-paced recitation of events, he made a reference to Helter Skelter – the apocalyptic vision of the world preached by cult leader Charles Manson – that didn't immediately seem to connect to the events of the season. But does AHS: Roanoke connect to Helter Skelter?
Upon a second listen to Dr. Cunningham's story, what he says specifically is that he moved to the house to write "a true crime novel in vein of Helter Skelter," the 1974 book written by Vincent Bugliosi and Curt Gentry about the Manson murders. Bugliosi was also the prosecutor in Charles Manson's trial, giving him inside information on the crimes and the aftermath. Helter Skelter is the bestselling true crime book of all time, so it makes sense that if Dr. Cunningham wanted to write about true crime he would aspire to the best.
The murders Dr. Cunningham was studying on AHS and the real life Manson murders do share some common details, such as writing words on the walls of the crime scene, but that's where the (admittedly very faint) similarities ends. The nurse murders on AHS actually have a very different true crime inspiration. Though altered slightly by changing names and details, the murders on AHS were inspired by nurses Gwen Graham and Cathy Wood, who killed at least five elderly patients at the retirement home where they worked. Though they were lovers and not sisters, Graham and Wood killed their patients in a particular order, intending to spell out the word "murder" with their initials – just like on AHS.
Series creator Ryan Murphy has expressed a desire to write a storyline inspired by Charles Manson on the show, and before the season aired some were speculating that Season 6 would finally be the time. However, it doesn't look like that's the case, though the mere mention of the phrase "Helter Skelter" could be another of Season 6's many connections back to Season 1, AHS: Murder House, where it was referenced by Tate.
There are eight more episodes left in the season, so anything could happen; there's still plenty of time for some kind of storyline about Manson to show up. However, as of right now the connection is pretty thin.