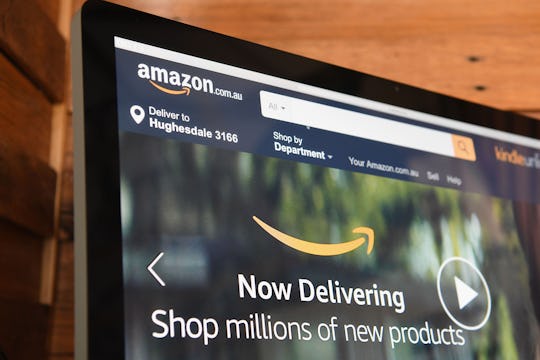 Quinn Rooney/Getty Images News/Getty Images
Here's Amazon's Policy On Shipping & Christmas Day Deliveries
I was scrolling through Facebook the other day when I noticed a friend's photo. It was of a holiday shopping list divided into two columns and on one side it had a mom's list with a gajillion people's names. On the other side, it said, "husband's list" and on it was one person — wife. Of course, the shopping responsibilities fall differently in every household, but it's not uncommon for mom to be the one who heads up the gift search committee. That's why online shopping is a lifesaver, especially around the holidays. But does Amazon deliver on Christmas Day?
According to Amazon's website, the cutoff for orders is Dec. 24 at 9:45 p.m. local time or earlier — and that's only for select cities who benefit from Amazon's Prime Now, which offers two-hour delivery. Of course, if UPS and other carriers are already reporting slowed down deliveries, then I guess a package could technically be delivered very early on Christmas morning.
"At this rate we could see the first Christmas Day deliveries this year," the Birmingham Mail reported.
But I wouldn't count on that. Instead, take a peek at some of the awesome shipping perks Amazon offers its Prime members, including free two-day shipping through Dec. 22, meaning you can order on that day and receive your package in time for Christmas Eve. On the other hand, Prime members in select cities can place orders Dec. 23 through Dec. 24 and receive free one-day, same-day, and even two-hour delivery.
But if you are a non-Prime member, then you won't be so lucky. Sad face. The cutoff date for receiving free shipping for holiday packages — and still receiving them by Dec. 24 — is Dec. 15. If you need to have something in time for Christmas, then you will have to cough up some dough for faster shipping.
Curious if you are one of the lucky cities who can receive same-day Amazon deliveries or even within two hours? The perk is a benefit of Prime Now and you can search your zip code to see if your city is eligible. According to Amazon, the two-hour delivery is free and one-hour delivery is available in most areas for just $7.99. Bonus? The service is available seven days a week. Select areas include: Atlanta, Austin, Baltimore, Berkeley, Brooklyn, Chicago, Columbus, Dallas, Houston, Indianapolis, Las Vegas, Los Angeles and Orange County, Miami, Minneapolis and St. Paul, Nashville, New York City, Northern Virginia, Orlando, Phoenix, Portland, Raleigh, Richmond, Sacramento, San Antonio, San Diego, San Francisco Bay Area, Seattle and Eastside, and Virginia Beach.
And it's not just for holiday gifts. Prime Now includes groceries, gifts, and goodies from your favorite local stores, which means even if you are done with your holiday shopping (we're not talking), you can get started on prep for your New Year's Eve celebrations. In Portland, that means snagging provisions from New Seasons Market, World Foods, Uwajimaya, and Cupcake Jones. If you are in New York City, then you can have favorites from Westside Market, Eataly, Gourmet Garage, Union Square Wine & Spirits, Vintage Grape Wine & Spirits, and Billy's Bakery delivered straight to your door.
And if prepping a holiday meal just isn't your thing, then you can score delivery from your favorite restaurants with options in Atlanta, Baltimore, Chicago, Los Angeles, Miami, San Francisco, Seattle, and more.
If you are still on the hunt for the perfect gift, then you may want to put your type, click, and searching fingers on — UPS and other carriers are already reporting a delay in deliveries and that could include your Amazon packages.
Sounds like it's time to snuggle up and start shopping.
Check out Romper's new video series, Romper's Doula Diaries:
Watch full episodes of Romper's Doula Diaries on Facebook Watch.