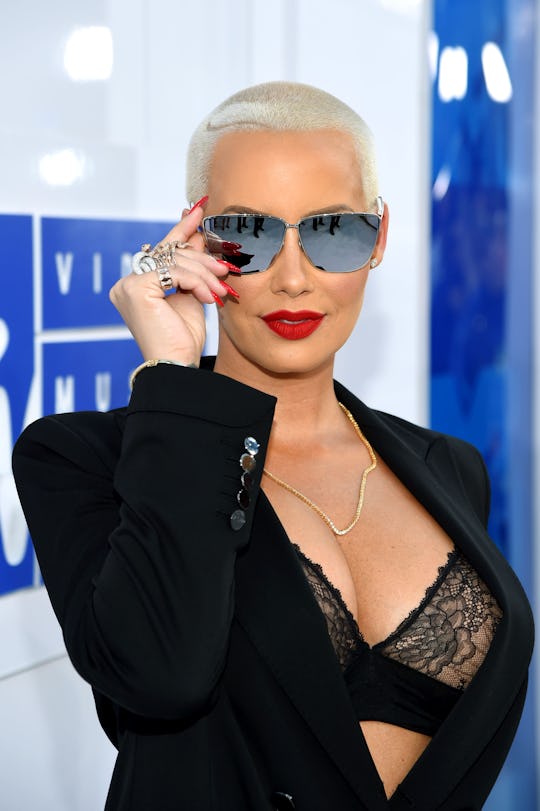 Larry Busacca/Getty
Does Amber Rose Have Dance Experience? The Next 'DWTS' Star Has Certainly Got The Chops
I'm going to go ahead and call it right now, folks. Amber Rose and partner Maksim Chmerkovskiy are going to 100 percent destroy the competition on this season of Dancing With the Stars. Why? You ask? What, does Amber Rose have dancing experience or something? You could definitely say that. Rose made her public debut in Ludacris's music video for "What Them Girls Like" with Chris Brown and Sean Garrett. This was the music video in which she caught Kanye West's eye. The two then began a relationship which was to catapult her into the public eye and launch her celebrity career, eventually making her the — somewhat improbably — symbol of female empowerment that we know and love today.
Before getting her start in music videos, Rose was famously an exotic dancer, where she began working in order to help her parents with money in the wake of their divorce. After her well-publicized relationship with West ended, she began dating Wiz Khalifa, who she married in 2013. During this time, she began modeling with Ford Models, and appeared in several of her now ex-husband's music videos, including "No Sleep", "Fabolous", and "You Be Killin' 'Em." While she was never a formally trained dancer, Rose has had plenty of practical experience.
So let's be real here. Why don't we just dispense with all the hoopla right now, and just give the lady her Mirrorball trophy. I mean, it's not like she's going to lose to the likes of Ryan Lochte or Rick Perry. While not technically a professional dancer, Rose has, for all practical purposes, been a professional dancer for years now. Her cameos in music videos don't include much hardcore dancing like we see from the Dancing With the Stars pros, but they certainly prove that this woman knows how to work her body to the absolute best advantage. Rose will provide the kind of ineffable grace and athleticism that is so hard to capture, and that we saw from the likes of Paige VanZant (my personal favorite) from last season. Pair that with the fact that she's partnered with general favorite and Eastern European dreamboat Maksim Chmerkovskiy, and there's basically nothing that can stop her.