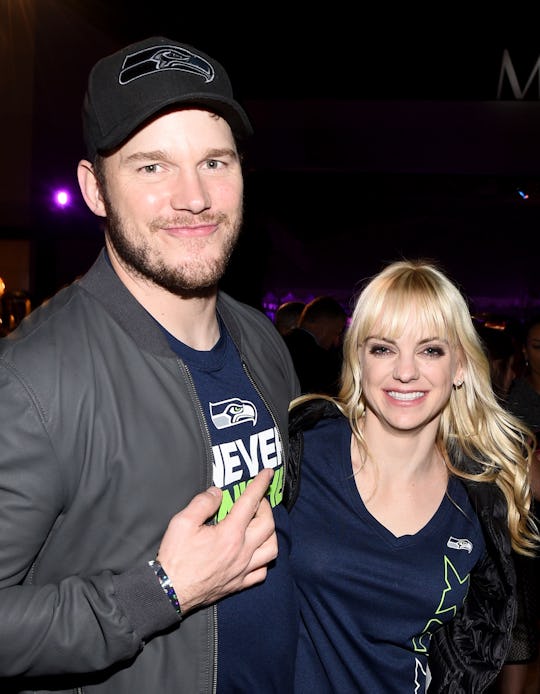 Michael Buckner/Getty Images Entertainment/Getty Images
Does Anna Faris Talk About Her Son On Her Podcast? She's Opened Up On Important Topics
Anna Faris is absolutely adorable and oh-so-likeable on screen when she plays a unintentionally comedic Playboy bunny/sorority mom, or an unlucky-in-love marketing pro turned amateur ex-boyfriend detective. You want to be her best friend while scrolling through her Instagram and watching interviews hoping to get a glimpse at her real life with hubby Chris Pratt and cute son Jack. Then there's her podcast, Anna Faris Is Unqualified, which gives you a closer glimpse at what she's actually like and what she talks about with her friends. The podcast, first launched back in November, features chats with Hollywood stars as they offer relationship advice to callers. The funny lady is a mom to an toddler and plays a single mom on a hit sitcom — but does Anna Faris actually talk about her son on her podcast?
First off: Listening to the podcast itself, you feel like you're on Faris' couch as she talks about very intimate topics, because her vibe is very comforting and relaxing. Naturally, it would seem like a no-brainer that, in a situation this casual, questions and answers about her family would come up.
In April, Faris revealed in a two-part episode with Olivia Munn that she's always wanted a big family and explained why it hasn't happened yet. "We both love kids, Chris and I have both dreamed about having a big family," she said in her chat with Munn. "But I didn't love pregnancy … I was just bored. I was uncomfortable at times, and Jack came early. He came two months early, so now I'm in a high-risk pregnancy category, but I would love to. I really would."
"It really tidal waves your life," she said, referring to another reason the couple haven't expanded their family just yet. (The comedy couple welcomed 3-year-old Jack in August 2012. ) "The amount of work and change in your life is so dramatic."
Faris revealed further about how the amount of responsibility significantly changes after you have a child and how heavily it weighs on moms. "Its truly like, and I'm not quite sure if men feel it the same way, but it's like a sleeping bag of guilt that I'm suddenly wrapped up in," she said. "I feel guilty all the time. I feel guilty for not doing things right. I feel guilty if I'm here with him and not playing with him enough."
Faris' podcast isn't the first time she's talked about her desire to have a big family. She opened up to Health.com in 2015 about how pregnancy complications and life at the moment were making things a bit trickier.
"It will definitely be a whole new complication because now I'm, like, a high-risk pregnancy, so it requires some different monitoring," Faris said in the interview. "My doctor's like, 'I don't think you'll have to be on bed rest the whole time.' And I'm like, 'I'm on a show.'"
Faris is very candid on her podcast and the way she speaks about relationships, the messiness of pregnancy, and the difficult family planning decisions parents need to make is very real and relatable for so many moms.