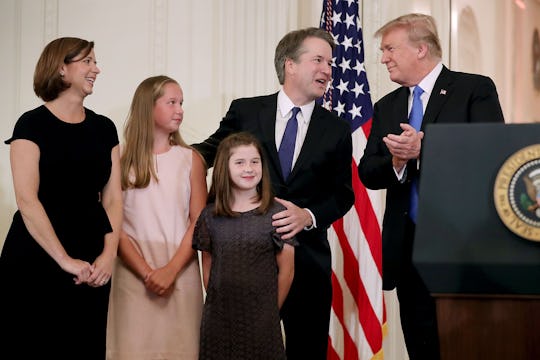 Chip Somodevilla/Getty Images News/Getty Images
Brett Kavanaugh's Wife Also Has A Long Career In Politics
Now that the confirmation hearings for President Donald Trump's Supreme Court nominee officially began on Sept. 4, people can't help but start looking back into his life. In these confirmation hearings, everything is fair game, and that includes looking into someone's home life. After finding that Kavanaugh is married with two kids, many people may find themselves wondering if his wife, Ashley Estes Kavanaugh, works or if she's also involved in politics.
For those unfamiliar with either members of the couple, Kavanaugh was nominated by President Trump to take the seat of Justice Anthony Kennedy, according to CNN. The justice's retirement was announced towards the end of June, as reported by The Washington Post. It was an announcement that, frankly, shocked many. Kennedy's departure meant that Trump's nominee could guarantee that the Supreme Court exists as majority conservative for the many years to come, as reported by People.
Considering her husband's work in the political and judicial fields, it shouldn't really come as too much of a surprise that Estes Kavanaugh has an expansive political career herself. After all, there are a lot of couples who work together in the political world.
From 2001 to 2005, Estes Kavanaugh served as the Personal Secretary to then-President George W. Bush, according to Heavy. This meant that she would have worked in the White House at the same time as her current husband, although this was before they were married.
Before serving as Personal Secretary to the president, Heavy reported that Estes Kavanaugh actually still worked for Bush. She was Bush's personal assistant while he was Governor of Texas from 1996 to 1996 and for the Bush-Cheney presidential campaign from 1996 to 2000, according to People and her LinkedIn page.
Clearly, that's a long time to work for one person, and that work obviously translated into some level of friendship, or at least acquaintanceship. When Kavanaugh and Estes Kavanaugh married in 2004, President Bush and his wife, Laura Bush, attended the ceremony at Christ Church in Georgetown, according to The Washingtonian.
Now, Estes Kavanaugh is the Town Manager of The Village for Chevy Chase Section 5 in Maryland, according to Heavy. It seems like a pretty quaint, sleepy municipality. According to its website, the village was established in 1922, although they did not become an incorporated municipality until 1982.
The village's website goes on to say that it is a small community with 227 houses and one restaurant. "It is a town known for its tree-lined streets, porches, and friendly neighborhood atmosphere," the website reads.
Chevy Chase is one of the wealthiest communities in the country, according to Bethesda Magazine. It is relevant to note that Estes Kavanaugh's position is non-partisan, as she is appointed by the Town Council.
Since Estes Kavanaugh hasn't held a partisan position or role like her husband, whose judiciary record will be scrutinized by the Senate throughout these hearings, not much is known about her actual politics. Her Wikipedia page does list her political party as Republican, although there's no source. However, given her past work for President Bush, it's likely that Estes Kavanaugh leans towards a conservative end.
Estes Kavanaugh has not really spoken in public. It seems that she largely keeps a quiet life out of the public eye, which seems fitting for the Town Manager of a quaint village.
Still, it's clear that Estes Kavanaugh has her own life and career. Undoubtedly, many people across the country will become more familiar with her as the court hearings continue and Kavanaugh's life continues to get probed into in the coming days.