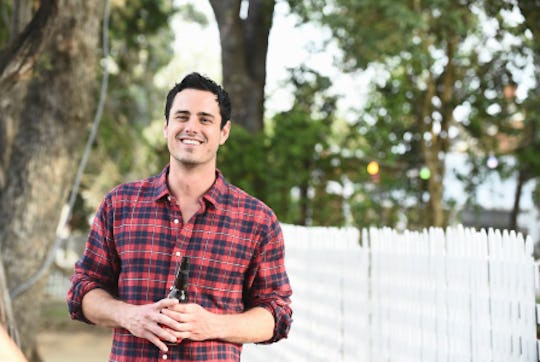 ABC/Felicia Graham
Does 'Bachelor's Ben Higgins Want Kids? He's Definitely Prepared To Be A Dad
The Bachelor's Ben Higgins is inarguably a pretty appealing prospect — he's 6'4, 27 years old, has traveled extensively, lives in a gorgeous city, and you know, actually seems like a pretty decent guy. However, for a lot of ladies looking for something long-term, there's one big deal breaker that can either make or break even a fairly appealing bachelor like Higgins: Some women love the idea of having a child (or five), while others don't even want a houseplant. Luckily for any of the Bachelor contestants who belong to the former group, Ben Higgins wants children, according to ABC.
Higgins seems to have zero hesitations when it comes to settling down. "I'm definitely ready to find that person, that's not a question in my mind and I can say that very confidently," he said in an ABC interview recently, responding with a very confident "Yes" when asked if he wanted children.
Higgins mentioned raising a family a second time when he talked about aligning with a potential partner on faith. "I think that'll be important as we raise a family, as we move forward in life," Higgins said.
Higgins' social media is just rife with pictures of him holding cute kids, so if you're a mama with a thing for Higgins or a baby-minded bachelorette, your ovaries may be getting a little excited right now.
Higgins also seemed pretty cool with the idea of being a stepdad, if things ever worked out between him and contestant Amanda Stanton. She finally told him about her two kids, Kinsley and Charlie, and he wanted to know more about them. Stanton and Higgins even made rose barrettes for the two later on, as a way to involve them in The Bachelor. (That sounded a little weird to me, but sweet, too. In its own way.)
"I'm ready to share my life with somebody, and I'm not fearful of the idea of getting married," Higgins told People in an interview last August. "As soon as I can find that person, it seems like the better life will be."
Despite being one man picking from 28 women — that doesn't seem stressful at all — Higgins really doesn't give off a player vibe. "Ideally at the end of this, I will be proposing," he said. "That would be a really cool thing."
I'm sure no one would mind that, especially if he's excited to settle down and have kids soon — because hey, it could potentially mean a baby with Higgins' genes out there in the world, and that would definitely be cute. Almost as cute as a photo of him holding it.