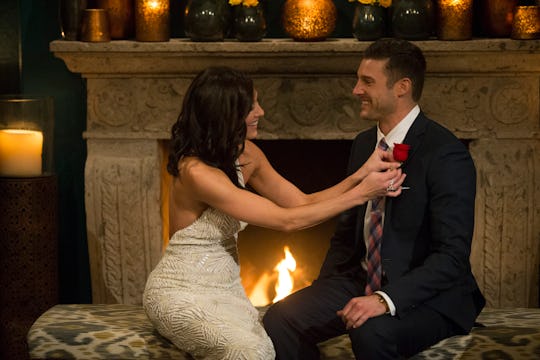 Paul Hebert/ABC
Why Garrett May Be Becca's Pick At The End Of 'The Bachelorette'
A Bachelorette contestant usually stirs up some controversy, but not this early in the competition. Garrett has been under fire for his social media presence, but does Becca choose Garrett to win The Bachelorette? Her reaction to the social media controversy has been telling, and not in a good way.
There was a hint during the premiere that he could be the one to win it all: Garrett won the first impression rose. This is a big deal considering the patterns from the last three Bachelorette leads (who all happened to show up during the premiere to give Becca a little advice). Season 11's Bachelorette, Kaitlyn Bristowe, is engaged to Shawn Booth who earned that rose. Same with Season 12's Jojo Fletcher and Jordan Rodgers. Aaaand that is also the case with last season, Season 13's, Rachel Lindsay and Bryan Abasolo. While such is not the case on The Bachelor, the first impression rose on The Bachelorette has almost always foreshadowed the winner.
While that's not the reason why Becca would choose Garrett, it is telling that she did this after getting Kaitlyn, Jojo, and Rachel's advice. It may mean that Becca knew from night one that she wanted Garrett to be in it for the long haul.
I'm sure much of Bachelor Nation was happy about that at first, but then a big, problematic bomb fell on the whole thing. Before going on the show, Garrett allegedly "liked" social media posts that attacked people like immigrants and Parkland survivors. This isn't the first time a contestant has been accused of problematic — and outright racist — things online. The lead's respective reactions, though, were way different. Last year, Lee Garrett was controversial for his racist and sexist remarks online; he eventually left the show, and lead Rachel didn't have kind words for him:
"I may not see everything and I may do things on my own time...but I keep my grass cut low so the snakes will show," Rachel tweeted when Lee was kicked off the show.
Unlike Rachel, Becca defended Garrett's actions. In an interview with ET, she said, "I want viewers to be open to everyone, and I want them to go through this season with me and watch my love story unfold with all of these men... because that's how I went into this journey." She continued, "I did things in the past that I'm sure wasn't the best thing, but I just want people to stay open-minded to everyone."
Not only does she want Bachelor Nation to be open-minded, but she said that everyone has the right to believe what they want to believe. "I can't fault on anyone for what they believe and who's to say that anyone is truly what they believe in if they just double tap," Becca told ET. "I can't speak to that because that's just not me. I am a strong woman and I do believe in certain things, but again, that's what's so great about our country — everyone is entitled to their own opinions."
This response is truly shocking to me, as I know that Becca supported Hillary Clinton and attended the Women's March. This lead me to believe that Garrett is in it for the long haul, and may even win her heart. Why else would she be defending him? Wouldn't she act like Rachel, and subtweet him to oblivion? It does not prove everything, but I wouldn't be surprised if Garrett is Becca's choice at the end of all this. I'm not Reality Steve so I can not confirm — but if not, I'm sure the controversial contestant could have role on Bachelor in Paradise.