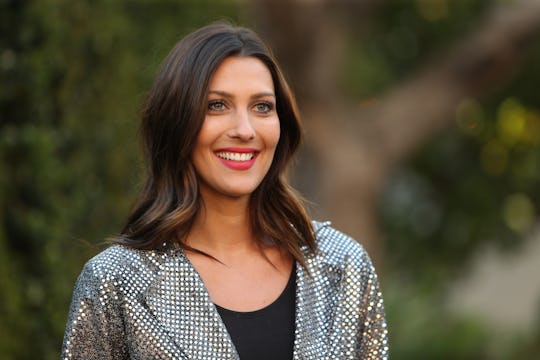 Paul Hebert/ABC
Arie Is About To Meet A Very Unexpected Visitor On 'The Bachelor'
As always, Chris Harrison has promised that this will be the most dramatic ending of The Bachelor ever. But this time he might actually be telling the truth. Previews for the last episode show somebody arriving by surprise to win back his ex, but which remaining contestant does he have history with? Does Becca's ex show up on The Bachelor? It has to be an old flame of hers, Lauren's, or Kendall's. I'm not immune to a grand gesture, but I'm not entirely convinced that this gambit is going to work for whoever has shown up on the Bachelor set to take back the love of his life.
The Bachelor is no stranger to exes showing up unexpected to confront contestants on the show. Though usually when this happens the ex in question appears early to eliminate the contestant before the lead falls too hard in love. Take, for example, DeMario Jackson from Rachel Lindsay's season. His ex-girlfriend was brought on to the show claiming that DeMario had never actually broken up with her. Poor DeMario famously tried to cover himself with an unconvincing, "Who's this!" upon seeing her. Rachel was having none of it and eliminated DeMario on the spot. The ex who shows up on this season, however, is different.
For one, this guy does not appear to be just any jilted lover who didn't know his girlfriend had just decided to go on The Bachelor. This guy means business. In the clips shown, the tan-suited man is heard saying he doesn't want to be on the show, he just wants his girl. He plans to tell the woman that he loves her and he wants to marry her. The voice has a slight southern drawl to it, but that doesn't necessarily mean that the woman in question is from the south. So is he Becca's ex?
In a sneak peak of the episode, ABC confirmed that the man in question is Becca K.'s ex-boyfriend Ross, who appeared to try and win Becca back. The clip shows Ross ringing Arie's doorbell and explaining that he is Becca's ex. He went on to explain that he only found out that she was on the show a week previously, that she was the love of his life, and that he wanted to marry her. He knows the show usually ends in a proposal but he had arrived to win her back. For his part, Arie says that he's "pissed" and would be crushed if Becca leaves.
Both Becca and Lauren B. told Arie about previous relationships which were important to them and helped shape their lives, so earlier reports varied as to whose man actually showed up at the eleventh hour. Lauren B. confessed that she had been engaged to someone not long before. But the relationship ended, and she hinted at some betrayal on his part. This, she explained, was the reason she had been so closed off, and why she had such a hard time opening up to Arie and letting her guard down.
On their first one-on-one date, Becca told Arie that she had been with the same guy for several years. He had been hugely important to her because he was the one who helped her after her dad's death. Presumably, that guy is Ross, who came all this way just to get her back.
I don't know how Becca is going to react to seeing her ex-boyfriend, and whether she'll accept his proposal. But I have to think that she'll turn him away. Their relationship already ended, and trying to revive things so much later is never a great idea.
Check out Romper's new video series, Romper's Doula Diaries:
Watch full episodes of Romper's Doula Diaries on Facebook Watch.