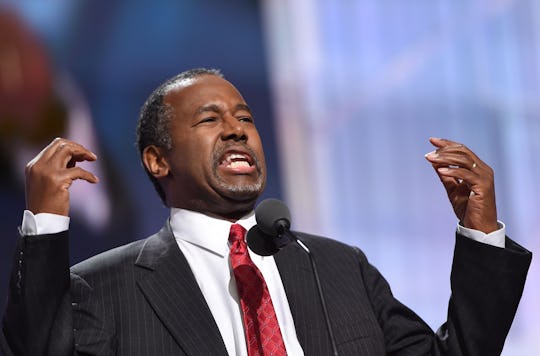 ROBYN BECK/AFP/Getty Images
Does Ben Carson Have Any Experience Relevant to Housing & Urban Development? Not Really
Monday morning President-elect Donald Trump announced he will appoint Dr. Ben Carson, one of his GOP primary rivals and a renowned surgeon, to become Secretary of HUD, or the Department of Housing and Urban Development. Does Ben Carson have any experience relevant to housing and urban development? Not particularly, but that shouldn't surprise anyone.
"Ben Carson has a brilliant mind and is passionate about strengthening communities and families within those communities," Trump said in a statement announcing the Carson pick, according to the Wall Street Journal. "We have talked at length about my urban renewal agenda and our message of economic revival, very much including our inner cities. Ben shares my optimism about the future of our country and is part of ensuring that this is a presidency representing all Americans."
As Politico pointed out, Carson would be the first African-American tapped to serve in the Trump Cabinet.
The Department of Housing and Urban Development isn't a small agency. Politico reported HUD has a budget of about $50 billion annually and is responsible for managing $1.6 trillion in mortgages and the country's programs to help provide affordable housing. The agency also oversees Fair Housing Act anti-discrimination laws, something Carson himself called "dangerous," last year in a Washington Times op-ed, according to Mother Jones.
"These government-engineered attempts to legislate racial equality create consequences that often make matters worse," Carson wrote in the right-wing Washington Times, Mother Jones reported. "Based on the history of failed socialist experiments in this country, entrusting the government to get it right can prove downright dangerous."
Failed social experiment? That's how he views anti-discrimination housing laws? And now he's in charge of their enforcement. What could possibly go wrong?
So what makes Carson qualified to run HUD? NPR reported that Carson told Neil Cavuto on Fox News his childhood in Detroit made him a good pick. "I grew up in the inner city and have spent a lot of time there, and have dealt with a lot of patients from that area and recognize that we cannot have a strong nation if we have weak inner cities," Carson said, according to NPR.
That's a change of heart from the statement Carson confidant Armstrong Williams made to The Hill on his behalf during the Thanksgiving week in response to taking on a Cabinet-level post in the Trump administration. "Dr. Carson feels he has no government experience, he's never run a federal agency," Armstrong told The Hill. "The last thing he would want to do was take a position that could cripple the presidency."
It was a pretty shocking statement from the Carson camp considering the many months he spent trying to secure the GOP nomination.
Carson's background is firmly rooted in healthcare; he's a retired, respected pediatric neurosurgeon. Now he's in line to lead HUD for team Trump.
"I feel that I can make a significant contribution particularly by strengthening communities that are most in need," Carson, 65, said about his new gig, according to ABC News. "We have much work to do in enhancing every aspect of our nation and ensuring that our nation's housing needs are met."
Carson's appointment will face Senate confirmation in the coming weeks before it becomes officials, according to Fox News. No word on whether Democrats in the Senate will move to block Carson's appointment.