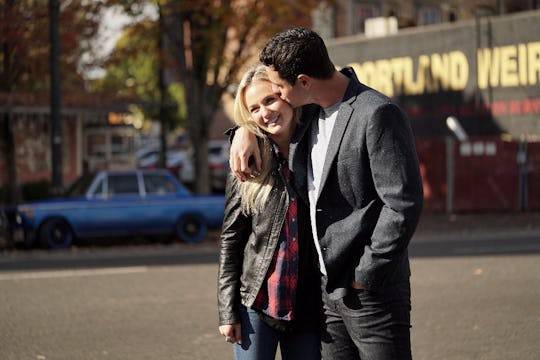 ABC/Levy Moroshan
Does Ben Choose Lauren? 'The Bachelor' Is Dropping Some Serious Hints
We are barely a half an hour into this week's episode of The Bachelor, and it seems Ben may have already spilled the beans as to which lady will win it all. The Bachelor's Ben Higgins seemingly laid out the winner in the show's opening this week — really Ben?! Leave some things to suspense, would you? Of course, that means that everyone is now officially left wondering: Does Ben choose Lauren?
With only three episodes left, these three ladies don't have much more time to capture Ben's heart. So who will he choose? Fans may each have their own favorite contender (I am rooting for JoJo all the way), but it seems Higgins may have already made up his mind.
So did Ben actually reveal that Lauren will take it all on Monday night's episode? Not exactly, but he did sort of elude to the idea in his opening speech. The highly anticipated fantasy suite episode kicked off with a recap of Ben's relationship with each of the women. He dramatically admitted to telling two women he loves them, and while he didn't explicitly reveal that one of them was Lauren in the beginning, he did eventually tell Lauren he loved her during their fantasy suite date.
When describing his feelings for the blonde beauty early in the episode, Higgins uses phrases like "love at first sight," "googly eyes," and "feeling like a school boy." Say it with me now, awwww.
The two have had a pretty strong connection from the start, so it really wouldn't come as much of a shock if she ends up getting the final rose.
Ben concludes the moment by saying he "can't imagine life without Lauren." I think that pretty much says it all, folks. The only thing left to do at this point is to wait for that final rose and what will inevitably be a Higgins/Bushnell proposal.