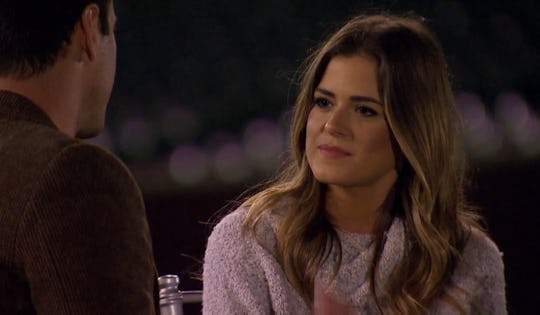 ABC
Does Ben Dump JoJo On 'The Bachelor' Finale? He May Be Preparing Her For Heartbreak
The finale of The Bachelor is among us. Which means Ben — Mr. I Love Two Women And Am Telling Them I Love Two Women — is going to have to make a serious decision. Will he pick JoJo, or will he pick Lauren B.? Both women have strong connections with the fan-favorite Bachelor, but because only one can win his heart at the end, one of them is bound to leave brokenhearted. But who? Well, there's a 50 percent chance that Ben dumps JoJo on The Bachelor finale, and while I would be devastated to see that happen, it wouldn't be that big of a surprise.
Throughout the season, there was one strong frontrunner. She was the one woman that Ben seemed completely in love with since their first date in a hot tub in the middle of nowhere. And that person was Lauren B. Now, I'm not saying that his feelings might have developed to a similar degree for JoJo during the season, but there is something to be said about a first love (on a TV show) and the loyalty Ben might feel towards Lauren because of that.
While I think that Ben and JoJo have a relationship that will go above and beyond the show, I don't know if Ben is thinking that far ahead. Ben is very in the moment (see: when he told two women he loved them in two days). If he's thinking ahead, then I would guess that JoJo is going to get the proposal, but if he's thinking about loyalty and where his heart has been from the beginning of the show, then he'll probably pick Lauren.
In the promo, we hear JoJo and Ben sitting on a bathroom floor talking about how Ben loves her but also loves Lauren. Cue sobs. It's a tough blow, and it's also so transparent that it worries me that he is preparing her for heartbreak. If he tells Lauren the same thing, then my theory will hop right in the trash, but if he tells JoJo that he also loves Lauren, but doesn't tell Lauren that he loves JoJo, then I think we all know that he's just slowly trying to plant the seed in JoJo's head that he will not be picking her.
Then again, there's the argument that Ben promised to not blindside JoJo. If he let's her take that helicopter to the proposal site, only to dump her, then grab your Webster Dictionary, because that's the definition of being blindsided.
I wish I understood Ben's reasoning for being so transparent to the women. It's only going to get him in more trouble post-show, because you know that whoever he picks is not going to let him forget that he was in love with two women the day he proposed.