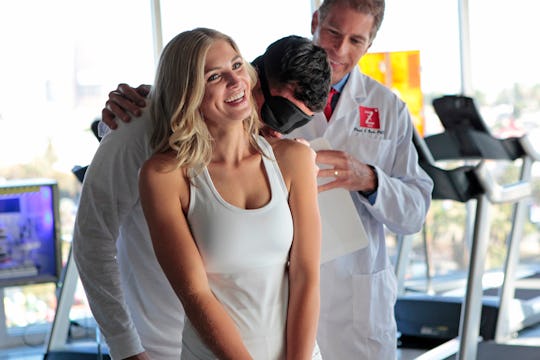 Does Ben End Up With Olivia? The Next 'Bachelor' Teaser Drops Some Hints
Season 20 of The Bachelor has kicked off with a bang, and people have serious #opinions about it all. Lace Morris is still going strong (somehow), but it looks like the true frontrunner here might be two-time rose winner Olivia Caridi. After The Bachelor teased a clip of episode three that heavily featured Caridi, everyone is wondering: does Ben end up with Olivia? The teaser for the third episode makes it seem like Olivia might have Ben in her back pocket.
So far, things are looking good for the WCYB news anchor from Virginia. Caridi won the First Impression Rose, which isn't much of a surprise, since she's beautiful, smart, and has a pretty noteworthy job (or rather, had, before leaving it to pursue Ben Higgins). She received a second rose after a group date with the other contestants and Higgins, when the troupe headed over to a weird love lab to test their scientific compatibility. After which she declared, "I got the group date rose. Me. It's mine. Two for two. ... Olivia Higgins. It's mine. C'mon, let's just end the show now." (Cue all of the other contestants instantly hating Caridi forever.)
While I think confidence is probably great — and likely a big part of Caridi's success — it didn't exactly win over the other contestants. Caridi did, however, win over the entire internet when she expressed her double-rose excitement by showing off her chompers to the world:
I think I've re-watched that GIF about 3,000 times already. And it hasn't stopped being hilarious.
However, despite the love Caridi is getting in the form of internet memes and roses from Higgins, it seems like tensions only rise between her and the other contestants in episode three. A sneak peek clip at the end of the second episode focused heavily on Caridi, and viewers can see her sneak off with Ben to one of the higher floors of the hotel (perhaps headed to a bedroom?) and then pull him over to wave down at the other girls. Ouch, Caridi, ouch.
Fans views of Caridi have been mixed:
Will Ben end up with Olivia after all? Higgins talked to Entertainment Tonight recently at the Winter TCA Press Tour, and he hinted that Olivia's personality changes over time. Will that spark a change in their relationship, too? "I'm excited for everyone to get to know Olivia more. I think she — her personality and her character — kind of develops over time and everybody will get to know Olivia a lot better even starting this week," he said.
Sounds like there's a few surprises coming up in the next few episodes. Check out the third episode of The Bachelor Monday at 8 p.m. EST on ABC — and in the meantime, check out ABC's sneak peek and decide if Caridi's got Higgins in the bag.
Images: Rick Rockwell/Disney ABC Television Group/Getty Images