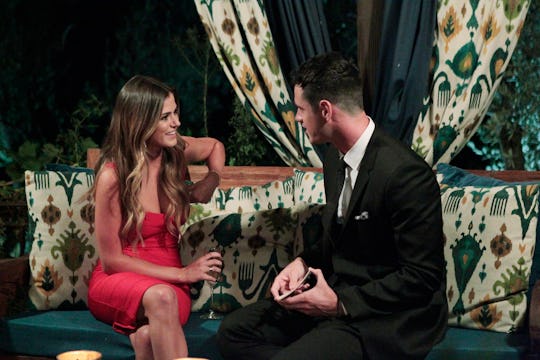 ABC/Rick Rowell
Does Ben Fall In Love With JoJo? Maybe, But She Has Serious Competition On 'The Bachelor'
There are only six contestants remaining on The Bachelor, and faithful viewers of the hit reality television series are starting to wonder: Does Ben fall in love with JoJo? The 24-year-old real estate developer, also known as Joelle Fletcher, has certainly been one of Ben Higgins' favorites from the very beginning. JoJo was given the first group date rose of the season, and a number of group dates have been super awkward because of the obvious chemistry between Fletcher and Higgins.
That being said, Fletcher certainly has competition. On tonight's episode, the six remaining ladies will accompany Higgins to his hometown of Warsaw, Indiana, and only four contestants will survive the episode. If internet rumors can be trusted — and, let's face it, sometimes they're actually pretty reliable — JoJo will definitely be one of the final four contestants, and probably one of the final two. Which is totally not-surprising. She has a lot going for her. The Dallas, TX native runs her own real estate company, and JoJo's brother was once a contestant on the short-lived reality TV series Ready For Love. Getting competitive on television is literally in her blood. Plus, she made her debut on The Bachelor wearing a unicorn mask, so apparently she even has a sense of humor.
Tonight, JoJo and Lauren B. both get a one-on-one date with Higgins when the group travels to Chicago to visit Wrigley Field, where the Chicago Cubs play. It's 100 percent appropriate that JoJo and Lauren B. are pitted against each other tonight, because they're the two favorites to win The Bachelor.
Bachelor fans on Twitter are starting to throw the L-word around in reference to Ben and JoJo. One fan even coined a sweet, if questionable, celebrity couple name. Still, it's way too early to declare JoJo the probable winner of The Bachelor. And even if Ben does fall in love with JoJo, that doesn't mean she'll get a marriage proposal. This is The Bachelor, after all. Polygamy is pretty much okay here. Ben might very well fall in love with both JoJo and Lauren B.
Things could get even more complicated. One Twitter fan even predicted that Ben would propose to Lauren B., but then change his mind and try to back into JoJo's good graces (good luck with that, buddy).
Whatever the case, the season finale is coming in just a few weeks, so we'll all know soon enough. Fingers crossed.