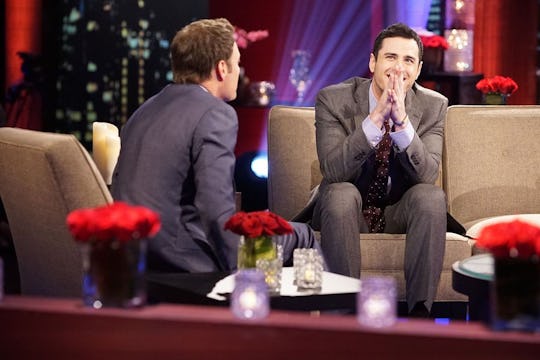 Kelsey McNeal/ABC
Does Ben Pick JoJo On 'The Bachelor' Finale? The Promo Is Very Confusing
I've been a Bachelor viewer since I was a child — probably too young to be watching The Bachelor. By now, I'm used to the little tricks-of-the-trade that entice viewers week-by-week to tune in. I'm also used to going into the finale of The Bachelor knowing very well that promos can be misleading and I should take everything with a grain of salt. But, after "The Women Tell All" promo, I have no idea who Ben picks in the finale of The Bachelor. In one moment, I think Ben picks JoJo. Then, I think it's Lauren that he proposes to. So, who is it?
This is a spoiler free zone, so you're in a safe space, but that doesn't mean I'm not going to dissect that promo like it's a frog in a high school science classroom. In the promo for the finale, we see — or rather, hear — Ben and JoJo talking on the floor of a bathroom. Ben says that he's in love with her, but also confesses to her that he loves Lauren, too. Yes, Ben tells a woman he loves that he loves someone else. Ben, you were doing so well up until that point — you were so close.
If you listen closely, you can hear JoJo start sobbing immediately after hearing Ben utter the word "yes." But, even though he admits to loving Lauren, I think there's a chance that being "in love" and "loving" someone are two different things. What he's saying to JoJo is promising — it's so encouraging, it would be insane if he didn't choose her after saying he loved and was in love with her. He wouldn't ever do that right?
If we look later in the promo, Ben says that he's about to propose to someone while he loves someone else. Well, we know that Ben "loves" Lauren, but he doesn't say that he is "in love" with someone else. OK, maybe I'm losing it and reading way too much into the semantics.
So, we don't know who Ben picks (if we're staying spoiler free). But, if we read close enough into those final moments, I would think that Ben wouldn't bring JoJo to the proposal site if he wasn't going to actually get down on one knee. I guess we'll have to wait and see — I'll just be watching the promo over and over until then for more clues.