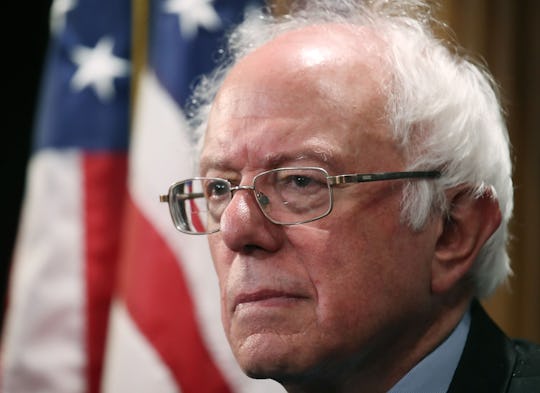 Mark Wilson/Getty Images News/Getty Images
Does Bernie Sanders' Endorsement Mean He's Dropping Out? He Hasn't Suspended His Campaign
Vermont Sen. Bernie Sanders ended more than a month of speculation as to what he might do leading up to the Democratic Convention on Tuesday when he took a stage in New Hampshire, stood next to former Secretary of State Hillary Clinton and gave her candidacy his public pledge of support. But if he's conceding that he won't be the nominee, does Bernie Sanders' endorsement mean he's dropping out?
Yes and no.
Sanders has been incredibly slow in coming around to Clinton's side. She mathematically locked up the primary campaign on June 7, more than a month ago. Since that time, Sanders has hinted and hedged around a concession, but offered nothing formal. Now that he's publicly admitted he lost, his campaign is all but done. But, according to NBC News, he hasn't officially suspended his campaign for "...procedural reasons related to the upcoming Democratic National Convention."
But, Sanders did finally acknowledge he was beaten.
"Secretary Clinton goes into the convention with 389 more pledged delegates than we have and a lot more super delegates," Sander said during his speech, according to NBC News. "
"Secretary Clinton has won the democratic nominating process," Sanders said. "And I congratulate her for that. She will be the Democratic nominee for president, and I intend to do everything I can to make certain she will be the next president of the United States."
Sanders still maintains some of the trappings of a presidential candidate, even if he's admitting defeat. According to a CNN report from July 4, Sanders was still being protected by a Secret Service detail, which costs about $40,000 a day. Once Sanders formally concedes the Democratic Primary race, or Clinton formally receives the nomination in July, he would no longer be entitled to Secret Service protection, indicating he might hold off on the formalities of suspending his campaign until the convention in Philadelphia, Pennsylvania, starting on July 25.
For Clinton's part, she thanked Sanders profusely for his support.
"You were great, so great," Clinton said. "Thank you so much."
According to the New York Times, one source close to Sanders said he is still disappointed in the result of the primary campaign, but that he wanted to do as he promised and endorse Clinton. The source added Sanders and his wife were "putting on a good face."
Maybe formally shutting down the campaign would just be too painful right now. Regardless, effective July 25, Clinton will be poised to formally receive the Democratic nomination for president.