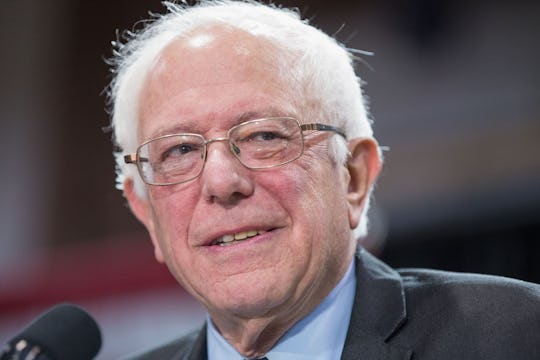 Whitney Curtis/Getty Images News/Getty Images
Does Bernie Sanders Have Kids? His Family Definitely Supports Him
Throughout his campaign for the Democratic nomination, the public has grown pretty familiar with Vermont Sen. Bernie Sanders and the issues he champions. Less so, though, with his private life. Not that it matters in regards to his political campaign, but hey, the people want to know (and apparently Hillary Clinton's private life matters, so fair is fair). Is he married? Does Bernie Sanders have kids? Does his family feel the Bern?
Sanders has been married twice, and has a total of three stepchildren and one biological son. He was first married to Deborah Shilling Messing, but that marriage lasted under two years before the couple divorced. She did, however, tell The Daily Mail in March, "All I can say is I believe in Bernie Sanders and I am a strong supporter."
After Sanders and Messing divorced, Sanders dated Susan Mott, and the two had a son, Levi, in 1969. Levi, a social security disability senior analyst in Boston, told People in January that he's never called Sanders "Dad":
When I was a little kid, I started with B. Then it was Ber and then Bern and now it's Bernard. Or the Bernster. I've never called him Bernie. And I never have called him Dad. Even when I was six years old, I thought it was childish. He was a friend, not an authoritarian.
In 1988, Sanders married Jane O'Meara after eight years of dating, and the pair have been together ever since. O'Meara brought three children into the marriage, making them a blended family of four kids. The children have all grown up now, and Sanders and O'Meara are now grandparents to seven grandchildren, according to Heavy. Three of them were adopted from China.
People reported that Sanders' and O'Meara's house is covered in children's toys for their grandchildren. His wife, O'Meara, spoke to the magazine about the rumor that Sanders is grumpy, saying, "Anybody who knows him knows that isn't true. Sometimes he is grumpy with reporters when they're not covering the important issues, but not with us."
She also told People that one grandson, Cole, is bothered by the bad press Sanders can get. "Cole will complain, 'They said he's a grumpy grandpa. He is not! He's a fun grandpa.'" Which is, of course, the cutest thing ever.
Sanders tends to keep his private life fairly private, and likes to keep discussions centered around the issues that are affecting the U.S., but that's a position he extends even to opponents (in October, Sanders even stood up for Hillary Clinton, saying, "the American people are sick and tired of hearing about your damn emails!"). It's great to see him sticking to his guns — with a big, modern family supporting him behind the scenes.