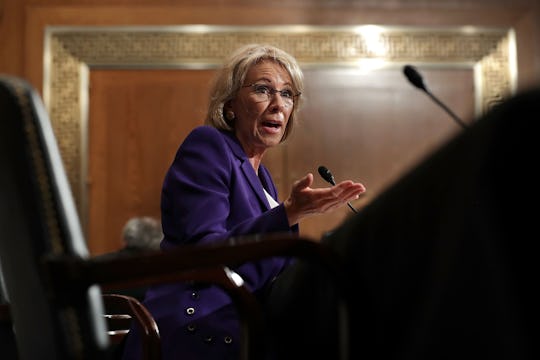 Chip Somodevilla/Getty Images News/Getty Images
Betsy DeVos' Missing Education Degree
Read any piece of media coverage of Betsy DeVos, and you'll come across three common descriptors: businesswoman, philanthropist, and education activist. To President Donald Trump, these titles were enough to pick the Michigan Republican mega-donor for U.S. secretary of Education. But, to a good portion of the country, nothing in her experience makes her qualified for the post — an opinion many felt was affirmed during her confirmation hearing last week. So what exactly attracted Trump to the private school advocate? Does Betsy DeVos at least have an education degree? The answer is a resounding "no."
DeVos obtained a bachelor's degree in business administration and political science from Calvin College in Grand Rapids, Michigan, according to The Washington Post. If confirmed, she would be the third education secretary in two decades who didn't have an education degree, the site reported. Still, her lack of credentials doesn't end with the degree she's obtained.
Despite being an education activist, DeVos has never actually worked in a school setting. She's never attended public school, nor have her children. She's also a fierce advocate for for-profit education and believes in school choice. These are all sticking points for DeVos' critics who believe she would only serve to hurt the country's education system as a whole, according to The Post.
DeVos' nomination has been met with heavy contention and controversy since Trump announced her as his pick for education secretary months ago. Lawmakers, education activists, teachers unions, parents, and childless residents alike have all openly rejected DeVos as secretary of Education. They say her lack of qualifications and sketchy corporate ties should disqualify her from the post. Then there's that whole issue with guns and wildlife. In case you forgot, DeVos said during her confirmation hearing on Jan. 17 that grizzly bears could very well attack school children, and that highly improbable possibility alone warrants firearms on school grounds.
Grassroots campaigns have formed in an effort to block her confirmation. So far, more than 287,000 people have signed a week-old Change.org petition opposing DeVos' nomination. By Thursday morning, Senators' offices across the country were inundated with thousands of letters, emails and phone calls from parents, teachers, and constituents who oppose DeVos' nomination as secretary of education, Politico reported. Sen. Bob Casey (D-Pennsylvania) received over 50,000 emails and letters, while former vice presidential candidate Sen. Tim Kaine (D-Virginia) received at least 26,000 calls, emails, and letters, according to Politico. Senators and House representatives have also taken to Twitter over the few days to explain why they want to #DumpDeVos.
Last week, 11 senators sent a letter to the Senate Health, Education, Labor and Pensions Committee requesting a second confirmation hearing for DeVos. They wanted an opportunity to question the Michigan billionaire and Republican mega-donor about recently revealed financial information and ethical concerns. But the committee chair denied their request, refusing to hold a second hearing before they vote on her nomination next Tuesday morning, according to MLive. She is in the process, though, of answering a stack of written questions from Democrats about her history and connections, MLive noted. But the lack of a second hearing means those Democrats most likely won't have the opportunity to give her the third degree. And that's not to our education system's benefit.