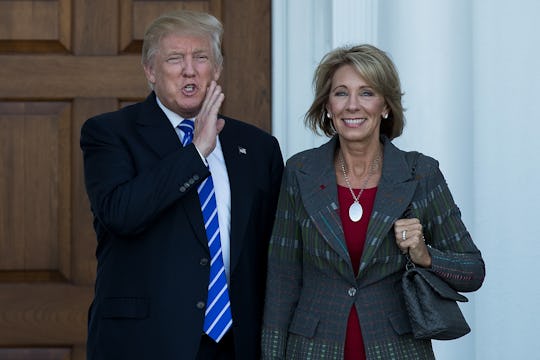 Drew Angerer/Getty Images News/Getty Images
Does Betsy DeVos Think Public School Teachers Are Overpaid? She's A School Choice Activist
Trump's pick of billionaire Betsy DeVos as Secretary of Education in his upcoming administration shows education reform is one area where he plans to deliver on his campaign promises. In fact, DeVos is about as hard-line as it gets when it comes to taking the position that schools ought to be privatized and that teacher unions are largely to blame for their failure. Does Betsy DeVos think public school teachers are underpaid? She used her fortune and influence in Michigan to weaken teachers unions and rights, and instituted a voucher program that re-directed millions of dollars from public schools to private, religious, and charter schools, according to Mother Jones.
DeVos is the daughter of Richard DeVos, the founder of Amway, according to Mother Jones, a company John Oliver recently eviscerated on Last Week Tonight as a a "pyramid scheme." Richard DeVos was a long time fundraiser for GOP stars like Ronald Reagan, according to Mother Jones, and Betsy has followed in her father's footsteps, devoting herself to not just fundraising, but also education reform.
School choice ties school funding to the student, as Vox explained, but DeVos advocates for school vouchers, which lets students and parents choose to take money out of the public school system and instead give it to a private or religious school. The effect of is that there's less money goes to public schools and public school teachers.
It's something she's long advocated across the country, and in her home state of Michigan.
Here's what DeVos wrote in an Op-Ed for the Detroit News:
Rather than create a new traditional school district to replace the failed DPS, we should liberate all students from this woefully under-performing district model and provide in its place a system of schools where performance and competition create high-quality opportunities for kids. We shouldn't create a new district that is nothing more than a DPS retread. Absent urgent and serious reforms, the new district will only continue the downward spiral of poor academic performance, declining enrollment and financial instability we've seen for decades from DPS.
In Michigan, thanks to DeVos' work, now more than 80 percent of charter schools are run by for-profit companies with little state oversight, according to Mother Jones.
And the results of voucher programs across the country aren't good. According to Slate, kids in New Orleans who used a private school voucher lost 13 percentage points in their math learning scores. And students in Louisiana and Ohio who attended school on a voucher program also under-performed compared to kids in public schools.
DeVos also worked to break unions with "Right to Work" laws that were passed in her home state of Michigan in 2012. According to Mother Jones, Michigan's teachers are now banned from striking over working conditions thanks to the new law. For example, Detroit teachers who recently staged a strike in protest of pay cuts, terrible school facility conditions, and growing class sizes had to use their sick days, Mother Jones reported.
Teachers Union President Randi Weingarten reacted to DeVos' appointment to Secretary of Education by President-elect Trump in a statement:
In nominating DeVos, Trump makes it loud and clear that his education policy will focus on privatizing, defunding and destroying public education in America.
DeVos has no meaningful experience in the classroom or in our schools. The sum total of her involvement has been spending her family's wealth in an effort to dismantle public education in Michigan. Every American should be concerned that she would impose her reckless and extreme ideology on the nation.
So while DeVos doesn't appear to have spoken out directly about teacher pay being too high, the policies she has advocated in the past, and will be in a position to put into place as Secretary of Education, are unlikely to do much to help public schools or boost public school teacher pay.