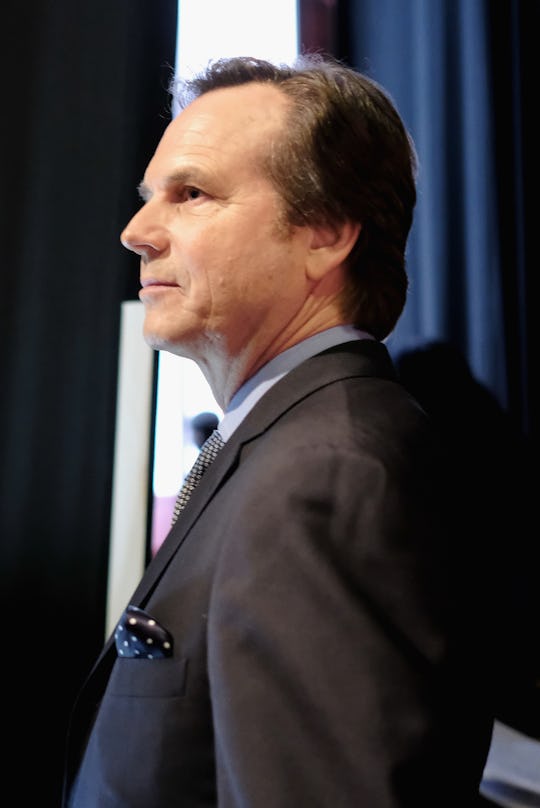 Alberto E. Rodriguez/Getty Images Entertainment/Getty Images
Bill Paxton's Kids Were A Huge Part Of His Life
Just ahead of the Academy Awards on Sunday, beloved actor and longtime filmmaker Bill Paxton died of complications related to a surgery, according to a family representative. The actor, known best for his prolific roles in such movies as Tombstone, Apollo 13, Titanic, and Twister, leaves behind a loving wife of 30 years, Louise Newbury. Paxton is also survived by his two kids, James, 22, and Lydia, 19.
In a statement to People, the family's representative said,
It is with heavy hearts we share the news that Bill Paxton has passed away due to complications from surgery. A loving husband and father, Bill began his career in Hollywood working on films in the art department and went on to have an illustrious career spanning four decades as a beloved and prolific actor and filmmaker. Bill's passion for the arts was felt by all who knew him, and his warmth and tireless energy were undeniable. We ask to please respect the family's wish for privacy as they mourn the loss of their adored husband and father.
Paxton and his son, who is also an actor, recently worked together on an episode of his TV show, Training Day, a follow-up series to the 2001 crime thriller of the same name, according to People.
In an earlier interview with People, Paxton said he was "thrilled" to be able to work with his son on the show's eighth episode. "He plays the son in a father-son robbery team, and my character, whose dad was also a criminal, tells him, 'We're both our father's sons, but that doesn't have to define us,'" Paxton told the outlet. "It was surreal saying that to him."
Of his daughter, Paxton told the outlet that he had "loved" watching the hit Netflix show Stranger Things with her, joking that he had previously done a bit of binge-watching to prep. "... I had surgery last spring and binge-watched all of Downton Abbey while I was recuperating. I got so engrossed in it, I was devastated when I got to the end," he said.
The two apparently spent much of their time bonding over entertainment, sharing a mutual love of the Tru TV show Forensic Files. "I like watching [it] with my daughter," Paxton told Us Weekly in a May 2012 interview, adding that he also enjoyed reading crime novels in general.
Paxton's son James shared his own thoughts on his father in an interview with entertainment site toofab last October, saying,
I'm very blessed to have him as my father, he's shared so much wisdom with me. I look up so much to him and I think family business stuff is awesome. But I was blessed to be able to break free in a starring role [on USA's Eyewitness] that had nothing to do with anything he was involved in. That was great.
I was raised in a little town called Ojai about an hour and a half north of LA. It's very different than LA and I only moved out here about three and a half years ago. I had actually gone to school to try to study journalism, then I realized that even if I wasn't born my dad's son, I know I would have found my way into this somehow.
James added that his father had not only passed down the acting bug, but had also taught him that kindness and friendship with those whom he worked were imperative. "One thing my dad taught me is I learn everybody's name on a film set, everybody, as fast as I can," he told toofab. "You become this crazy kind of weird family. That's something that I learned and I think it's very important."
Despite the heavy loss, it seems Paxton's legacy will not only be remembered in his years of work, but the life-lessons he taught those whom he loved most.