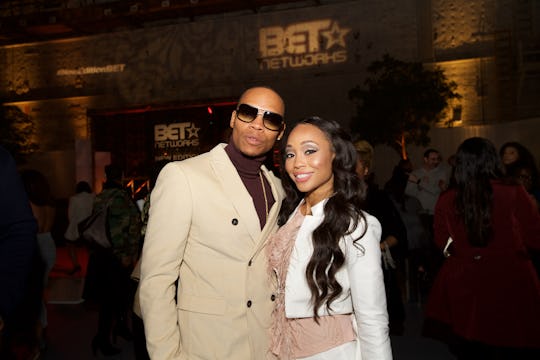 Earl Gibson III/Getty Images Entertainment/Getty Images
'RHOA' Star Shamari DeVoe Was A Member Of Girl Group Blaque
In Season 11, The Real Housewives of Atlanta welcomed Shamari DeVoe to the cast. Though these days Shamari seems to focus on her family (including twin sons Ronald and Roman) and her job as a self-proclaimed "marriage ambassador," she and her husband Ronnie DeVoe share a love of music. He was a member of both New Edition and Bell Biv Devoe, while Shamari was in the girl group Blaque. But does Blaque still tour?
Currently, Blaque no longer tours, but it seems possible that there could be a return in the works. On Instagram, Shamari posted a picture alongside former bandmate Brandi Williams with the hashtag #Blaque, and she also threw a '90s party for charity to honor the third member of Blaque, Natina Reed, who passed away in 2012. She still describes herself as "1/3 of Blaque" on Instagram, and Williams' bio might be even more telling: she lists herself as a member of Blaque as well, but also offers booking info for the group.
None of that is an official confirmation that they'll be going on tour any time soon, but it's clear Blaque is still important to both Shamari and Williams. That makes it more plausible that they could perform again one day, though things would obviously be different without Reed.
Blaque was active as a group in the late '90s and early '00s, producing such hits as "808," "Bring It All to Me" (feat. JC Chasez), and "I Do." You also might remember them as members of the iconic cheerleading team the East Compton Clovers in the first Bring It On movie. They contributed a few songs to that soundtrack, including two versions of "As If," one of which featured another member of NSYNC. This time, it was Joey Fatone.
Blaque was mentored by Lisa "Left Eye" Lopes of TLC fame, and they released three albums total: Blaque, Blaque Out, and Torch. Though it seems like a reunion could have been in the works several times over the years, it would never be complete with Reed. She was struck by a car in Atlanta while crossing the street, though it was determined that the vehicle was not at fault. She was only 32 years old.
At the time, Shamari and Williams released a statement to The Hollywood Reporter, which read:
We are devastated by the loss of our group member, sister and friend Natina Reed. Because of the enormous support of Blaque fans and our love for each another, Blaque officially reunited this fall and we were in the process of working on a new album and a reality show. Natina continuously embodied the pioneering spirit of Blaque and her undeniable creativity touched the hearts of fans everywhere. Natina was a mother, sister, accomplished songwriter, artist and friend. We ask for your prayers at this time for Natina's family. She will forever be missed and her global influence eternally felt. We thank God for the experiences we shared.
According to Bravo, Shamari will be working on music with Williams during the current season of RHOA, as well as taking on a project with her husband Ronnie called "Me and Mari." Though quite a few things have changed for Blaque over the years, it seems like Shamari and Williams are still close enough to make touring in the future a possibility.