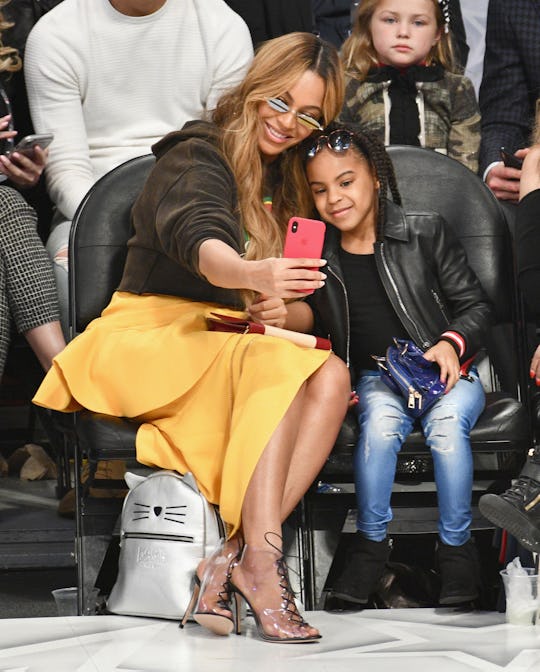 Allen Berezovsky/Getty Images Entertainment/Getty Images
Does Blue Ivy Go To School? She Attends A Swanky Private School
No matter how rich or famous they may be, celeb parents often like to claim that their kids still live totally normal, everyday lives, just like everyone else. But one of the coolest things about Blue Ivy Carter is that she doesn't even try to pretend that she's not already the queen of basically everything. Does Blue Ivy go to school? Beyoncé and JAY-Z's first-born may have just started first grade, but she's definitely not going to just any old school.
According to Us Weekly the Carters opted to make Los Angeles their home base in 2016 specifically so that their daughter could attend an exclusive $19,000-a-year private school that was recommended to them by their pal, Gwyneth Paltrow. And it turns out they are surprisingly involved in the school's community — not only are they said to be the ones in charge of pick-up and drop-off duty, a source told the mag that they actually attend PTA meetings, too. And if that weren't enough, Beyoncé even gave a surprise performance at the school's fundraiser during Blue's preschool year, according to Entertainment Tonight, putting on a short set that included some of her own hits, like "Crazy In Love," and "Halo," as well as a cover of Whitney Houston's "I Will Always Love You."
So where should you send your kids if you'd like them to mingle with hip-hop's royal family? Blue is said to attend West Hollywood's The Center for Early Education, a school for students from preschool through sixth grade, that bills itself "as a socio-economically and culturally diverse independent school" that aims to encourage students to be "joyful, resilient, life-long learners." The private institute was formed in 1939 with the goal of "[respecting] the inner world of the child" and their natural developmental pace, and these days, according to W Magazine, "The Center" is one of L.A.'s most exclusive schools, with an only 6 percent acceptance rate.
Of course, it's hard to imagine that any school would opt to turn down the daughter of Beyoncé and JAY-Z, and now that she's in, it seems likely that her siblings, Rumi and Sir, will also attend. Admissions director Deedie Hudnut told the magazine that while the tight enrolment numbers mean it's not always possible for them to automatically admit the children of parents who graduated from The Center, they do reserve spots for brothers and sisters of current students. But as much as it seems like the school would cater solely to Los Angeles' rich and famous, Hudnut said that's actually not the case: many students receive financial aid in order to attend, and 44 percent are children of color.
Even among the high-society students at The Center though, Blue Ivy must stand out. Not only is her mother one of the most famous women on the entire planet, Blue herself lives a particularly luxurious life: in Aug. 2017, the family closed on an $88 million Bel Air mansion, the city's most expensive home sale of the entire year, according to The L.A. Times. But that's not all — in March 2018, the young girl attended the Wearable Art Gala in Los Angeles with her parents and attempted to bid $19,000 at an art auction, according to Harper's Bazaar, and a month later, WWD revealed that Blue also has her own stylist and personal shopper.
As extravagant as their lifestyle may be though, it's clear that providing their daughter with material possessions is far from being the priority. In April, JAY-Z appeared in an episode of David Letterman's Netflix series, My Next Guest Needs No Introduction, according to TIME, and the rapper spoke about how proud he was of his daughter's emotionally "healthy" upbringing. He said,
I told [Blue] to get into the car the other day, because she was asking a thousand questions and we had to leave for school. I got into the car and ... we're driving, and I just hear a little voice, 'Dad?' I turn around and she goes, 'I didn't like when you told me to get in the car the way you told me.' She's six! 'It hurt my feelings.' And I was like, 'That is the most beautiful thing you've ever said to me!'
Given their concern for their daughter's emotional development, it makes sense that Beyoncé and JAY-Z would want to send her to a school that emphasizes growth and resilience. So even though it definitely seems like Blue Ivy lives the kind of life most people can hardly even imagine, it does sound like behind it all lies the same kind of parenting goal that pretty much all parents have for their own kids, regardless of their income level.