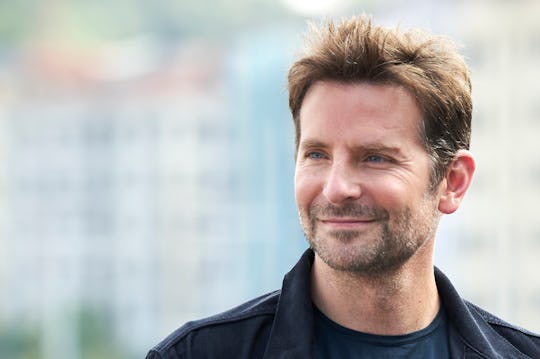 Carlos Alvarez/Getty Images Entertainment/Getty Images
Bradley Cooper Went Though Some Serious Musical Training For 'A Star Is Born'
Actor Bradley Cooper will make his directorial debut in the much-anticipated A Star Is Born on Oct. 5. The movie stars Cooper as well as Lady Gaga, who we know can sing, but does Bradley Cooper sing in A Star Is Born? Since Cooper recently told Ellen DeGeneres that the film will feature all original songs, according to Smooth Radio, it's probably pretty important that the two leads in the movie are able to sing.
A Star Is Born is a musical and a remake of the 1970s movie starring Barbra Streisand (which, in turn, was a remake of the 1937 and 1954 versions), POPSUGAR reported. It follows the life of a small-town girl as she moves to the big city to — what else? — become a star, and Cooper's Jackson Maine helps her as her star rises ever higher.
While it does sound like Cooper sings in A Star Is Born, he apparently had to be persuaded to do so, according to Vulture. The movie actually filmed scenes at festivals like Glastonbury in order to get a really authentic feel, which suggests that Cooper really went all-in to make his performance as Maine as authentic as possible as well.
Cooper told Vulture in April:
"[Gaga] said right from the beginning that there would be a barter. [She said] 'I'm gonna rely on you to get a performance that's honest out of me' — because she'd never done a film before — 'and I'm gonna make sure that you're going to turn into a musician. Because we're going to sing everything live.' And I went, 'Wait, what?'"
That's right: Gaga called the shots on this one. Cooper said Gaga told him she couldn't watch movies where it's clear that an actor is lip-syncing to a prerecorded song, and he agreed. He told Vulture: "She's right! [Singing live] was terrifying, and I really relied on her. I spent about a year and a half taking vocal lessons and preparing."
Which is a very long time to prepare for a role, but clearly, Cooper wanted to get this one exactly right. A recent review of A Star Is Born from The Los Angeles Times reported that the vocal work involved actually lowered the actor's range by a full octave. Talk about commitment.
Cooper told Vogue in September that he learned how to play guitar and worked with a vocal coach and a piano teacher for a year and a half to play Maine, and wrote three of the songs for the film. He says he was able to do all that "because of Gaga. She really gave me the confidence."
And Gaga told Vogue that when she first heard Cooper sing, she knew the movie was going to be magic. She told the outlet:
He sings from his gut, from the nectar! I knew instantly: This guy could play a rock star. And I don't think there are a lot of people in Hollywood who can. That was the moment I knew this film could be something truly special.
In advance of the movie's release on Oct. 5, most of the reviews specifically praise Cooper's singing in A Star is Born. "Cooper's performance is enhanced by his surprisingly credible singing," Rolling Stone reported. And The Wall Street Journal wrote that Maine "sings in a beautifully deep baritone," and notes Cooper's vocal training for the film.
Obviously, people are taking note of all the hard work Cooper put in to bring Maine to life, and how much it paid off. And if early reviews are any indication, his performances in the film are a real treat for the audience that should not be missed.