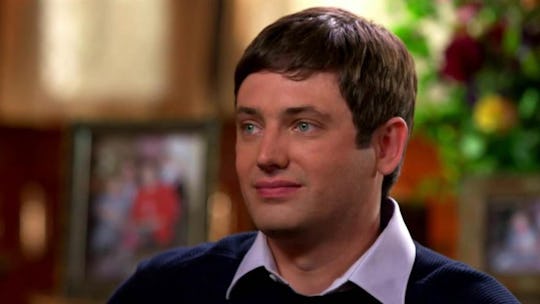 CBS
Does Burke Ramsey Remember JonBenet's Disappearance? 'Dr. Phil' Special Tells All
On a pre-taped interview airing on Dr. Phil on Monday, September 12, Dr. Phil sat down with Burke Ramsey, JonBenét Ramsey's older brother, in his first-ever interview about the disappearance and murder of his younger sister. Asked point-blank whether or not he remembered what happened the morning his sister went missing from their Colorado home (and was later found there, murder), Dr. Phil asked if Burke Ramsey remembered JonBenét's disappearance. Burke Ramsey admitted he remembered the morning JonBenét went missing, speaking candidly about the details of that terrifying, chaotic morning and the hours, days, and weeks that followed it.
Ramsey told Dr. Phil that his mom came in his room in the early morning, frantically searching for someone, yelling, "Where is my baby?" over and over again. ("The first thing I remember is my mom bursting into my room really frantic saying 'Oh my gosh, oh my gosh,' running around my room, now, I know, looking for JonBenet," Ramsey told Dr. Phil on the special, CBS News noted.) Though he didn't leave his bed at the time to follow after his mom, Ramsey remembers that, not even an hour later, a police officer opened the door to his room and shone a flashlight around the space. Ramsey recounted to Dr. Phil intimate details of that morning from his perspective: it was dark out, that a detective who'd come to his home to interview him had told him that JonBenét was "missing," and that he'd said to the detective, "I told the guy, 'She's probably hiding somewhere! Did you check the whole house? Maybe she's outside!'"
Ramsey's interview with Dr. Phil marked his first-ever public interview on the death of his 6-year-old younger sister, according to CBS News. Though Burke was just 9 years old at the time of JonBenét's death, he felt that, 20 years after her death, he was ready to talk about it publicly:
For a long time the media basically made our lives crazy. It's hard to miss the cameras and news trucks in your front yard and we go to the supermarket sometimes and there would be a tabloid with my picture, JonBenet's picture plastered on the front or they would follow us around. Seeing that as a little kid is just kind of a chaotic nightmare, so I was pretty skeptical of any sort of media, it just made me a very private person. As to what I'm doing now, it's the 20th anniversary and apparently still a lot of tension around it, I guess I kind of wanted to make it about remembering her and not just another news story.
Though the public have long-since wondered whether or not Ramsey Burke was involved in the murder of JonBenét 20 years ago, Ramsey has never publicly addressed the rumors, and he was never charged with the crime nor was the case ever solved. In a statement provided to Romper, the Ramsey family lawyer L. Lin Wood said,
In May of 1999, the Boulder District Attorney and the Boulder Police Department publicly confirmed that Burke Ramsey was not a suspect or even a possible suspect. Any statement conveying that this young man was involved in the brutal murder of his sister - his life's best friend - is unquestionable false and defamatory. Conveying this false accusation for TV ratings is unconscionable and will result in litigation in the future as it has in the past. There is no legitimate journalistic or First Amendment value in broadcasting false accusations against Burke.
The special airing on Dr. Phil will play out over a three-part series. It marks the first and reported last time Ramsey will allow an interview on the murder of his sister.