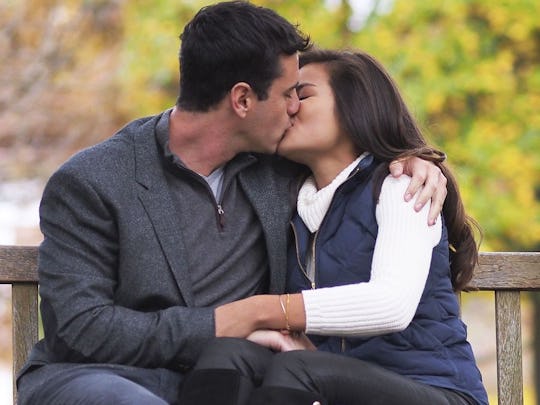 Scott Evans/ABC
Does Caila Still Love Ben On 'The Bachelor'? Her Feelings Are Still There
Tears! Call outs! Cat fights! This week's episode of The Bachelor: The Women Tell All kicked off with a bang, and it was definitely not short on drama. We got the chance to hear Leah defend herself for throwing Lauren B. under the bus, and watched Olivia break down in tears as she apologized to Amanda for calling her a "teen mom", but it was Caila's turn in the hot seat that stuck out to me the most. As I watched her discuss her time with Ben, I couldn't help but wonder — does Caila still love 'Bachelor' Ben? It seems her feelings for him are still there, for sure.
As the most recent contestant to be sent home, I can't even imagine how emotional appearing on The Bachelor: The Women Tell All special must have been for Caila. As you may recall, Caila told Ben she loved him during the Fantasy Suites episode that aired last week, and sadly Ben did not say it back. If that's not soul-crushing enough, the 24-year-old had to relive it all over again while seeing Ben for the very first time since their break up. She just kept saying how hard it was to re-watch their parting. Poor Caila.
During her one-on-one with Chris Harrison on Monday night's episode, Caila pretty much revealed that she still loved Ben. "I really did love him and I still do in a way," she admitted with a faint dramatic whisper. Perhaps she feels a little guilty about her feelings? Can't say I blame her, the wound is still pretty fresh.
Chris proceeded to ask Caila if she misses Ben, with which she replied, "Yeah. I just miss talking to him and hearing how he is doing," with the saddest tone of voice you have ever heard, practically ripping my heart out.
Literally. Heartbreaking.
I was hoping for some closure between the two when Ben came out and was confronted by Caila, but he sort of just danced around the subject in typical Ben fashion. Although, he did tell her that he appreciated her and that their relationship did mean a lot to him. I guess that's as good as it will get for these two. My heart truly goes out to Caila, but I am confident that she will move on and find love again.