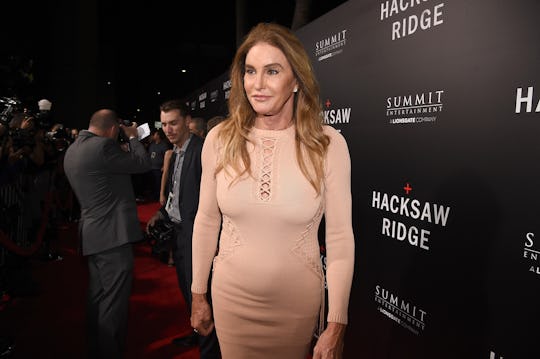 Kevin Winter/Getty Images Entertainment/Getty Images
Why Caitlyn Jenner Won't Golf With Trump
During the presidential election, reality TV star Caitlyn Jenner faced her fair share of criticism for choosing to back President Donald Trump's campaign, despite the Republican's selection of an anti-LGBTQ running mate, his lack of support for abortion, and his many choice words about women over the years. We're just a few months into Trump's presidency, however, and it seems like Caitlyn Jenner is no longer as supportive of Trump as she used to be. Why? The disenchantment seems to stem mainly from the administration's decision to roll back Title IX protections for LGBTQ students.
In an interview with ABC News on Friday night, journalist Diane Sawyer asked Jenner if she was still "a Trump Republican." Jenner didn't respond with a definitive yes or no, but instead said:
Here's the deal: Yes, I did vote for Trump, but here's the deal breaker with the Republican party. And the deal breaker is, you mess with my community... you don't give us equality and a fair shot, I'm coming after you. When it comes to all equality issues, for the entire LGBT community, what we need is federal guidance. Just like the previous administration said that it was okay to serve as a trans person in the military. We have front-line people, okay? I'm talking Marines, trans guys, on the front line, fighting for our country. I'm trying to get, especially the Republican party, to make a change.
In February, the federal Education and Justice departments informed schools that it would now fall to individual states to decide whether Title IX, a federal sex discrimination law, applied to gender identity or not. The move essentially reversed President Obama's federal guidance to schools mandating that students be allowed to use whichever bathroom corresponds with their gender identity. At the time, Jenner called the repeal "a disaster" on Twitter and publicly asked Trump to call her.
Considering that nothing has changed on the Title IX front, it seems Jenner is no longer interested in supporting the president. "When I was at the inauguration, I did say hi at a cocktail party, and he wanted me to play golf with him," Jenner told ABC on Friday. "At the time, I thought it was a pretty good idea, but since Title IX, it's not a good idea. And so I won't be playing golf with him."
However, Jenner did say that she would be willing to sit down with the president to discuss her concerns. "Would I meet with him privately on this issue? Absolutely," she said. Jenner's passion for defending the LGBTQ community shone through as she spoke about confronting her fears in order to further trans rights.
"If you want to call me names, make jokes, doubt my intentions, go ahead, because the reality is, I can take it," she told ABC. "But for the thousands of kids out there coming to terms with being true to who they are, they shouldn't have to take it."
Despite earlier controversial decisions, Jenner's choice to turn down outings with the president and instead hold Trump accountable for trans kids' protections is at least a good start. It looks like if Trump doesn't reverse his decision on Title IX, he may just lose one of his most unlikely — and high-profile — supporters, permanently.