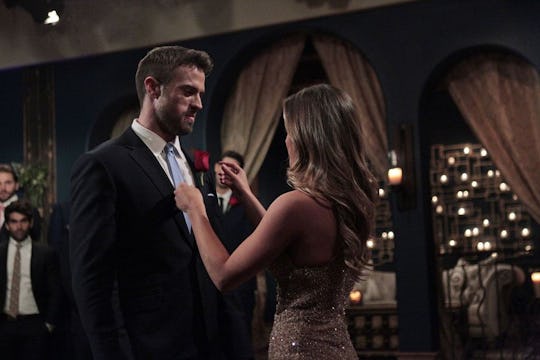 Rick Rowell/ABC
Does Chad Get Kicked Off Of 'The Bachelorette'? It's Going To Be A Violent Season
A considerable chunk of the preview for JoJo Fletcher's season of The Bachelorette is dedicated to the possibly violent behavior of ex-Marine Chad. I say possibly because with this show, you can never be sure what is real and what is editing. But, when you jam a bunch of good-looking guys of varying confidence levels into one house, heavily stocked with booze, in which they are all vying for the affection of one woman, it is bound to get aggressive. But, according to the season's teaser, Chad takes it to an intense, safety-compromising, physical-attacking place. So does Chad get kicked off The Bachelorette?
Unsurprisingly, his behavior is, in part, could be what keeps him on the show for so long. JoJo admits to having a weakness for bad boys — which she didn't realize she doesn't actually deserve or have to put up with until she met sweet, respectful, nurturing Ben.
Unfortunately, she probably won't nix Chad until he displays his outrageous behavior. Chad primarily seems to clash with Jordan — and in fairness, a lot of the guys seem to clash with Jordan for this same reason — over the sincerity of his intentions with JoJo. In one ominous clip, we see Chad gently (but super menacingly) tap Jordan's temple as he says, "If you literally think that, you don't have half a brain inside there."
In another clip, Chad says to Jordan in front of all the guys, "When you go home, you think I can't find you? You think I won't go out of my way to come to your house?" "You think I'm scared of you?" Jordan asks. But the altercations keep on coming.
He gets in Grant's face and challenges him to a fight. Ambulances get called, and we see bloody knuckles. We hear about someone punching a door. Not-real-James Taylor has a bleeding brow, and someone's shirt has a lot of blood on it.
Plus, the other guys sense that something is deeply wrong and smell danger, for both themselves and for JoJo. "Chad is not safe to be around," says Jordan. "But Chad does have an ability to morph when he's around JoJo. She doesn't know what he's like here. She has no idea."
Robby adds, "There's not a doubt in my mind that she could be in danger."
Eventually, we see host Chris Harrison pull Chad aside for a talking to. "There's been some violence," he says. "Threats of violence. Guys are scared for their lives."
It seems like producers may intervene for the sake of everyone's safety, but we'll have to wait and see if the producers have the honor, or JoJo just cuts him loose. Take note, future Bachelorette contestants: the show has plenty of drama packed into it without physical brawls breaking out. Take your toxic masculinity elsewhere.