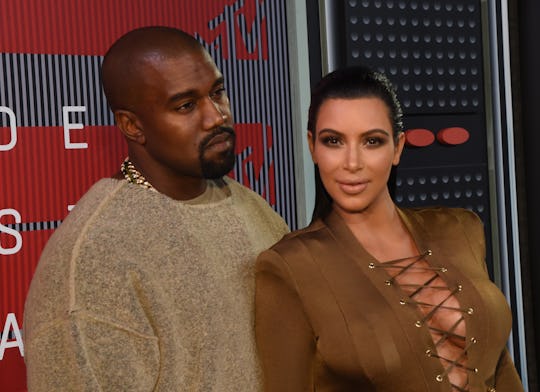 Larry Busacca/Getty Images Entertainment/Getty Images
Does Chicago West Have A Middle Name?
People were already freaking out about the birth of Kim Kardashian and Kanye's West baby girl when Kardashian made the announcement on Tuesday. But people were even more excited on Friday, when Kardashian announced that their new daughter had a name — Chicago West. But fans are dying to know more about their new baby and have very specific questions, like does Chicago West has a middle name?
The answer has yet to be revealed — but it can be assumed that Chicago doesn't have one. On Friday, Kardashian took to her blog where she made the big name announcement after West admitted, on Wednesday, that their baby had no name. So it must have not taken them too long to make up their minds. In Kardashian's blog post, according to People, Kardashian didn't provide an explanation for her daughter's unique name. Instead, she just shared her daughter's name (sans middle name), date of birth, and other important vitals.
It is possible that Kardashian could just be keeping this middle name a secret or keeping it in the family. But it could also be very possible that the baby has no middle name due to the fact that her two children don't have middle names, either. Hey, no one said that the Kardashian-West family was a "play by the rules" kind of family.
In 2013, when Kardashian and West's daughter, North, was born, it was revealed that her birth certificate showed that she had no middle name, according to TODAY. Some speculated, at the time, that this had to do with the pun of her name (north west also happens to be a direction) and adding a middle name would take away from that. "I can only think that they chose no middle name because they really wanted to emphasize the pun quality of North West," Pamela Redmond Satran, founder of baby name website, Name Berry, told TODAY. "They wanted to be sure that she had to introduce herself as North West."
But this was more than just a statement, because two years later, when Kardashian and West welcomed their first son, Saint, in 2015, they didn't announce that he had a middle name, either. A copy of Saint's birth certificate, obtained by TMZ at the time, showed further proof that their son does not have a middle name. But Kardashian and West do have middle names themselves — Kardashian was born Kimberly Noel Kardashian and West was born Kanye Omari West. So there really is no indication why Kardashian and West would start a new tradition and not decide to give their children middle names. And while their daughter, Chicago might not have a middle name, she does have a nickname. Kim revealed on Twitter on Friday afternoon that her daughter would go by "Chi" (that's pronounced "shy").
The Kardashian-West family isn't the first to not give their children middle names (my own grandparents don't have middle names, either). But to a lot of people, this may seem a little uncommon. This is because having a middle name dates back to ancient Rome, according to Reader's Digest, when middle names were given to children to show their place in society. Those names then translated over to give parents the opportunity to honor people in their family, which is still one of the top reasons for having a middle name, according to TIME. But, according to The New York Times, less and less people are using their middle initial online or in their published work. And, as The Globe and Mail, points out, middle names are only customary and not required on a birth certificate.
While knowing celebrities middle names comes in handy during your weekly trivia game, there really isn't any other time you refer to a celebrity by their full (including middle) name. Although it would be cool if Chicago had a middle name, it really has no importance to her life. Kardashian and West are such trend setters.