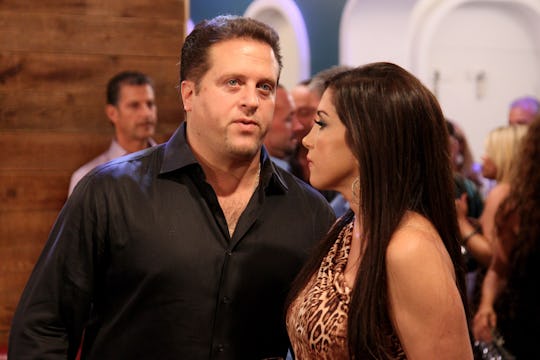 Steve Mack/Getty Images Entertainment/Getty Images
Does Chris Laurita Talk To Caroline & Dina Manzo From 'RHONJ'? His Family Is Complicated
The Real Housewives of New Jersey marked the first Housewife franchise on Bravo in which some of the wives were related. Sisters Dina Manzo and Caroline Manzo were main characters in the first season (who also happened to marry brothers, making them both sisters and sisters-in-law). Another main cast member was their sister-in-law Jacqueline Laurita, who is married to their brother, Chris. We won't even get into the eight other Laurita siblings for now. But the family feuding led to some of the most intense and frankly believable drama in any of the Housewives series. These days, does Chris Laurita still talk to his sisters, Caroline and Dina Manzo? Their relationships seem to change by the week.
On a recent episode of Watch What Happens Live, Caroline Manzo seemed to confirm that she and her sister Dina are on the outs again. Andy Cohen asked her, "Everything's still good?" to which Caroline simply shook her head slightly and said "It's over...You can't get blood out of a rock." Caroline and her brother Chris's family, however, seem to be doing just fine. Last May, the family's shared adorable Instagram pictures for each other's sons' birthdays. Caroline wished little CJ Laurita a happy 14th as well as a happy birthday for her son, Chris.
Relations with Dina Manzo, however, seem to be considerably cooler than those between the Lauritas and the Manzo matriarch, Caroline. While clearly Caroline and Dina are no longer speaking, things appear to be only slightly more cordial between Dina and Jacqueline's family. As reported by Inquisitor, in a Periscope video, Jacqueline described her relationship with Dina as "peaceful." She said that while they haven't seen one another in a few years, they at least aren't actively fighting. They have even posted for one another's businesses on their Instagrams, suggesting that they speak at least occasionally.
The family struggles are part of what makes the New Jersey Housewives so terribly compelling, but it's still hard to see rifts like this pop up again and again. As anyone with family can surely attest, those relationships can be just as hard to maintain as any other. Hopefully the sisters can find a way to repair the damage, and Dina will one day be welcomed back into the fold.