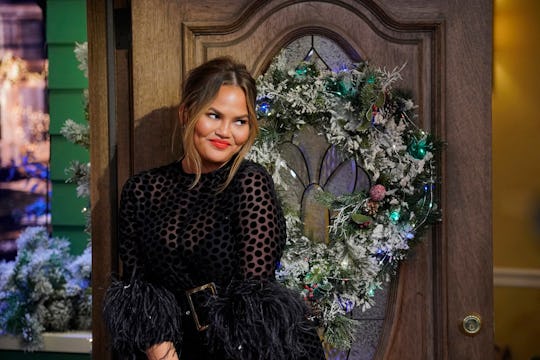 Paul Drinkwater/NBC
Chrissy Teigen *May* Be Singing Alongside Her Hubs On 'A Legendary Christmas'
If you're already hyped up on all things Chrissy Teigen and Christmas, you're in luck — A Legendary Christmas airs on Nov. 28 on NBC. That's one full hour of Mr. Teigen (aka John Legend) performing a slew of holiday songs from his album of the same name as the special, and a full hour of Chrissy's dynamic personality. It's like an early present. So if it's a musical special and hubby, John, is set to sing, does Chrissy Teigen sing on A Legendary Christmas? Here's what to know beforehand.
In an interview with E! News the couple talked a little bit about the album (also called A Legendary Christmas) and what to expect from the special. It will, of course, feature some of Legend's music, while Teigen calls herself the "comic relief." That doesn't mean she absolutely won't be lending her voice, however. After all, plenty of previews of the telecast hint that the couple (and all their celeb friends) will be doing some Christmas caroling around an LA suburb.
Talking about his live tour to Tampa Bay Times (I'd get tickets now, if I were you), Legend explained how important the piano was to his musical family — especially during Christmas gatherings. He said, "it would be a big thing to sing at the end of the day after we'd exchange gifts and play football and eat and do everything else. The most important part of Christmas was us gathering around the piano."
As far as Chrissy's appearance on the special, Legend talked about their chemistry both on and off screen. "Our personalities, because they're different and complement each other and play off of each other well, it actually works really well on television," he said. "In my mind, I feel like one day we would have some kind of variety show or something that we would host together. But in the meantime, we thought this Christmas album was a good way for us to play with those ideas that we may do in the future, for a one-off purpose. It felt natural to do it for this, because Christmas is such a family holiday."
Teigen posted the intro on her Twitter, and it looks like the special is going to be drawing heavily on classic '90s sitcoms. I officially can't wait.
The special will feature friends and family of John and Chrissy, and other well-known personalities knocking on lucky Los Angeles resident's doors to surprise them with celebrity Christmas carolers. Imagine Zach Galifianakis, Stevie Wonder, and Kenan Thompson serenading you on a whim. Or, it could be Meghan Trainor, Jane Lynch, or Darren Criss. If you're a huge The Voice fan, you'll adore seeing judges, Kelly Clarkson, Adam Levine, and Blake Shelton making random people's day (while wishing it was you). There's even an adorable video chat between Queer Eye's Fab Five and the couple's daughter, Luna so watch for this if nothing else.
At the other end of the crushable power dup, Teigan holds her own as a bestselling cookbook author (from which I often pull recipes from), and TV host of Paramount Network's lip sync competition show, Lip Sync Battle. All that aside, she's an incredible mom to 2-year-old, Luna, and new baby, Miles. Regardless of whether Chrissy sings on the special or not, she'll be part of it which means you're guaranteed a good time. Check out her Twitter game if you don't believe me. All hail the Legends.
This first-time mom wants to have a home birth, but is she ready? Watch how a doula supports a military mom who's determined to have a home birth in Episode One of Romper's Doula Diaries, Season Two, below. Visit Bustle Digital Group's YouTube page for the next three episodes, launching every Monday starting November 26.