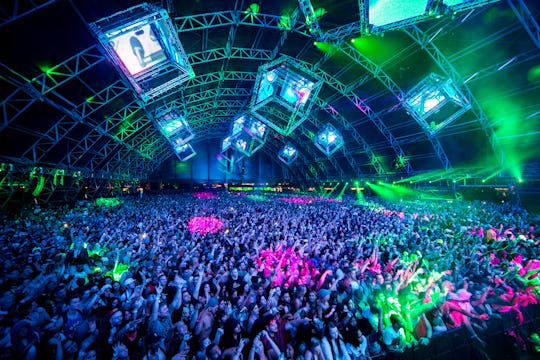 Christopher Polk/Getty Images Entertainment/Getty Images
Does Coachella Money Go To Anti-LGBT Groups?
If you're hoping to make a trip to Coachella in April, you might want to do a bit of reading first. New reports suggest that money made from the festival may be going towards causes that should make you pause before you plan. So, does Coachella money go to anti-LGBT groups? In short, they could be, but there's no evidence that proves the funds are being donated to these groups.
According to reports by Uproxx and Afropunk, the company that produces the festival, Goldenvoice, is under the parent company of AEG (Anschutz Entertainment Group), which is owned by Philip Anschutz. Anschutz and AEG also have investments in the Los Angeles Lakers, the Los Angeles Kings, and the Staples Center. Romper has reached out to AEG for comment regarding the allegations and did not immediately receive a response.
As reported on Mic.com:
Using the revenue streams generated from all these properties, Anschutz has donated hundreds of thousands of dollars to anti-gay organizations, such as the Alliance Defending Freedom, the National Christian Foundation and the Family Research Council, according to the bipartisan advocacy group Freedom For All Americans.
And just to top it all off, Greenpeace reported that Anschutz helps to finance, along with the Koch Brothers, major climate denial groups in addition to his anti-LGBT financial donations. It's unclear how much of the hefty Coachella price tag goes toward these causes, but it's clear that Anschutz makes money off of Coachella.
All those festival tickets add up, and by attending the festival, you may be giving money to a company owned by a man who gives to causes that don't exactly align with the progressive spirit of the music festival. It's in a roundabout way, but the connection is there. Even if Anschutz doesn't donate any of the money to an anti-LGBTQ group, money is still going into his pockets.
Let's take a look at just one of the organizations that Anschutz supports using the money made from his various properties. According to the Southern Poverty Law Center, The Family Research Council, which calls itself "the leading voice for the family in our nation's halls of power," actively works against "same-sex marriage, hate crime laws, anti-bullying programs and the repeal of the military's "Don't Ask, Don't Tell" policy." As a result, they have been named an anti-gay hate group by the SPLC since 2010.
Anyone who actively works against LGBTQ individuals is working against the support of LGBTQ Americans by the country as a whole, and millennials in particular. According to the Pew Research Center, in 2016, 71 percent of millennials supported same-sex marriage. More than ever, Americans are supporting LGBTQ individuals when it comes to forming legal partnerships and families.
Some people are trying to get the artists and musicians performing at Coachella to respond to the news. Actress Patricia Arquette tweeted an article about the controversy, along with the comment, ":( when you find out Coachella owner is anti #LGBT & a climate denier @radiohead @Beyonce"
Where Anschutz' money goes may not be printed on your Coachella ticket, but it's not hard to follow the money and evaluate the risks. As a demographic that would likely frequent the event, young festival-goers should read up and stay aware of where the money from the event might be headed long after Beyonce's set is over.