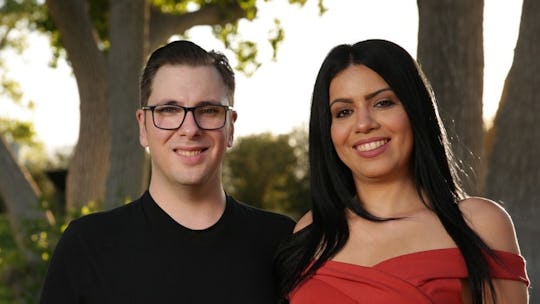 Courtesy of TLC
'90 Day Fiance' Star Colt Shares So Many Selfies With Larissa On Instagram
Colt and Larissa share plenty with the cameras on 90 Day Fiancé — and luckily for fans, they share even more on social media. Since Larissa's 90 days were months ago now, the couple has plenty of updates for the world. So, does Colt from 90 Day Fiance have an Instagram?
Yes, Colt does have an Instagram. Under the handle @c.45.j, Colt's profile boasts 46,000 followers. His profile features a mix of selfies, photos with Larissa, and pictures of his cats (natch). Larissa's Instagram has been set to private for the past few weeks, following some relationship drama that unfortunately the police had to deal with.
Earlier this month, Larissa was arrested after a domestic dispute with Colt, People reported. The details of the incident are not the clearest, but from everything I can tell, the couple has moved past whatever it was. At least at the moment it seems like things are hunky dory between Colt and Larissa following the alleged incident, as he has posted plenty of couple selfies with her since then.
Recently, the couple posed on a vacation in New York City. "Big Apple, 3 A.M.," Colt captioned a shot of Larissa kissing him on the cheek.
Editor's Note: The Instagram account has since been deleted.
Colt also recently shared a photo of himself and Larissa "Enjoying the day off with not a care in the world."
And just a few days after Larissa's Nov. 10 alleged arrest, Colt shared a photo of the two of them captioned "Throwback."
And a few days before Larissa's alleged arrest, Colt shared a photo of the couple, noting that they were "Enjoying the lights." The only lights I see are the brightly-lit awning outside of the deli in the background and the reflection of a few string lights in the window, so I'm glad that Colt and Larissa are enjoying these very basic, everyday lights?
My favorite thing about Colt's Instagram is the cat pics, hands down. "Do I look like a cat to you, boy? Am I jumpin' around all nimbly bimbly from tree to tree?" he captioned a photo of one of his cats.
And here are a few more super cute cat photos:
Surprisingly, self-described "mommy's boy" Colt only has one photo of his mom, Debbie, on his Instagram.
But unsurprisingly, there are a few photos of Colt on mama Debbie's Instagram. Yes, Colt's mom definitely has an Instagram account (love it).
Larissa used to be pretty active on Instagram, but she set her page to private following the alleged incident earlier this month. Hopefully Colt's Instagram updates are enough to keep fans of their relationship satisfied! Until then, everyone will simply have to make due with watching this duo hash it out on the show.