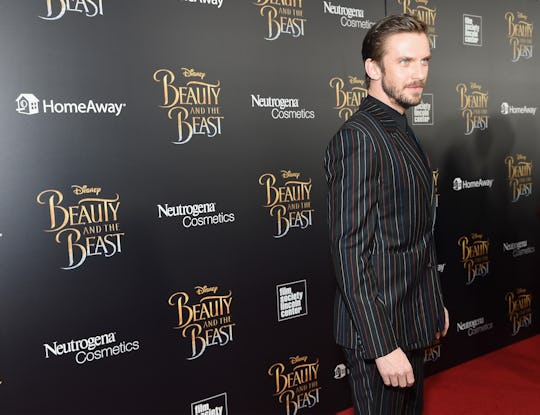 Jamie McCarthy/Getty Images Entertainment/Getty Images
Does Dan Stevens Sing As The Beast?
It's been five years since we last saw Dan Stevens play the dashing character of Matthew Crawley, living the high society life on Downton Abbey — but fans will get to see the 34-year-old actor return to a more regal status as the Prince-turned-Beast in Disney's live-action adaptation of Beauty and the Beast. Before the movie opens on Friday, fans are dying to know if Dan Stevens sings as the Beast.
The newest version of one of Disney's most cherished animated films of the '90s has received more than just a live-action makeover: There's now an extended exposition where the audience gets a chance to see more of the Prince's story before he's cursed by the Enchantress and magically transformed into the Beast — which means a lot more non-Beast screen time for Stevens, which is certainly welcome.
But there's even more added awesomeness Disney fans can look forward to on Friday. While the original 1991 film did not have the Beast sing a song, when Beauty and the Beast got the Broadway musical treatment in 1994, the Beast finally got his own swoon-worthy love song: "If I Can't Love Her." While the Beast's power ballad didn't make it into the live action movie version, Alan Menken and Tim Rice teamed up again to write a brand new song for the Beast, titled "For Evermore." And, as it turns out: Yes, Dan Stevens will be singing.
Speaking to The Hollywood Reporter, Stevens spoke of how he's never sung anything as major as his song for Beauty and the Beast. Stevens is married to Susie Harris, a South African jazz singer, and it turns out she was a help in getting him the role in the first place, helping Stevens with his audition. "We're a pretty musical household and it was lovely to have that," he said. "We've never really sung together all that much." Stevens had to learn how to sing properly for the role of the Beast, calling preparation for his song "so intense and different." Of the experience itself, Stevens said, "It was so groundbreaking and mysterious and weird and wonderful. I really felt all the sort of fairytale magic."
Now that we know he'll sing, the bigger question still remains: Can Dan Stevens actually sing? It's not like Downton Abbey had any musical numbers — but I am having fun imagining the Dowager and Lady Crawley singing a rendition of "All That Jazz" — so fans will just have to wait to find out if Cousin Matthew's got the singing chops after all when Beauty and the Beast opens Friday.