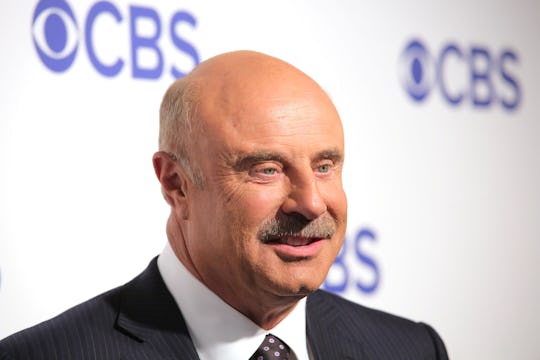 Jemal Countess/Getty Images Entertainment/Getty Images
Does Dr. Phil Think Burke Ramsey Killed JonBenet? The Brother Recently Spoke Out
For decades, people have been trying to find the answer to the question: Who killed JonBenét Ramsey? It's been nearly 20 years since the chilling case shook the nation and it's once again in the spotlight. CBS's docu-series The Case of: JonBenét Ramsey debuts on Sept. 18 and has reignited attention and skepticism to the unsolved murder of the child beauty pageant queen. Adding to the hyped debut is a Dr. Phil interview with the late 6-year-old's brother, Burke Ramsey, who is speaking publicly for the first time since his younger sister was found dead in their family's Colorado home. In the interview, he admits, "I know people think I did it, that my parents did it. I know that we were suspects." But, does Dr. Phil thinks Burke Ramsey killed JonBenét? (Romper reached out to Dr. Phil regarding the question.) Many are curious about the famed psychologist's thoughts on the mysterious case.
Dr. Phil, whose full name is Phil McGraw, doesn't appear to hold back in the interview and bluntly asks JonBenét's brother why, during another bout of heightened attention, he decided to speak about his sister's horrifying and mysterious death. In fact, McGraw even suggests that Ramsey's parents, Patsy and John Ramsey, thought their son, who was 9 years old at the time, could have been JonBenét's killer, though the heartbroken brother was never once charged with any crime in relation to her death.
When asked for comment regarding public allegations against Burke Ramsey, his representation said the following:
"In May of 1999, the Boulder District Attorney and the Boulder Police Department publicly confirmed that Burke Ramsey was not a suspect or even a possible suspect. Any statement conveying that this young man was involved in the brutal murder of his sister - his life's best friend - is unquestionable false and defamatory. Conveying this false accusation for TV ratings is unconscionable and will result in litigation in the future as it has in the past. There is no legitimate journalistic or First Amendment value in broadcasting false accusations against Burke."
"Has it ever occurred to you that your parents actually thought you did this and didn't ask you because they didn't want to know?" McGraw bluntly asks Ramsey in the a preview for the three-part interview. Ramsey's response was not revealed.
Later in the interview, Ramsey revealed that he remembers everything that happened on the night that would captivate the world for decades. "I remember my mom searching my room that night saying, 'Where's my baby? Where's my baby?'" he told the daytime talk show host.
The now 29-year-old and his parents were all questioned after JonBenét was found strangled to death with a cord around her neck and duct tape over her mouth in the basement of their home, the day after Christmas in 1996. Ramsey and his parents were all eventually cleared by authorities of any involvement in the murder.
After 20 years of unresolved questions looming in the background, no one has ever been convicted of JonBenét's death, despite the fact that police questioned more than 140 suspects, and more than 1,400 pieces of evidence were reviewed. Ramsey said in the interview that he's aware that people still may think of him as a suspect— he was questioned once when he was 9 years old and again when he was 12 years old — and explained his reasoning for coming forward 20 years later.
"I want to honor her memory by doing this interview," he told Dr. Phil. "I don't want anyone to forget."
The Dr. Phil interview may reveal shocking, never-before-heard details about one of America's most notorious unsolved murders as Ramsey breaks his silence over the murder of his sister — or it might not. Perhaps, more important than anything, it serves as a coping mechanism for Ramsey, who is likely still trying to come to terms with the death of his younger sister.
The previews for the highly anticipated interview don't indicate Dr. Phil's personal opinions about the case. Romper reached out to McGraw's representatives for comment but did not hear back at the time of publication.
What we do know so far is that McGraw appears to ask JonBenét's brother some of the questions America has been waiting to be answered for decades — and for some, that might just be enough.