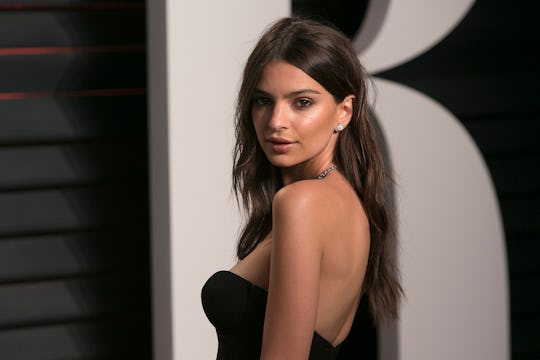 ADRIAN SANCHEZ-GONZALEZ/AFP/Getty Images
Does Emily Ratajkowski Have Kids? She Already Leads A Pretty Busy Life
Emily Ratajkowski is a woman of many talents: The model, actress and music video star seems to have a lot on her plate, but that doesn't stop her. Ratajkowski is also very outspoken about body image, being an advocate on female empowerment in women's own terms. Ratajkowski has only a handful of credits to her name and is still an emerging star. But as America and the rest of the world gets to know Ratajkowski, they may have some questions — like, does Emily Ratajkowski have kids? The model may not currently be a parent, but that doesn't mean she's ruling out taking on the "supermom" role anytime soon.
Ratajkowski already made headlines recently for something that could arguably be an important life lesson for the next generation. On Wednesday, Ratajkowski and Kim Kardashian posted their take on Kardashian's nude selfie posted three weeks earlier. Kardashian's original selfie, posted to her Instagram account and censored with black bars over her breasts and nether-region, sent the media into an uproar and Ratajkowski was one of the reality star's earlier supporters, posting a nude selfie of her own in response.
Since then, Ratajkowski and Kardashian have teamed up, posting their newest take on the now-famous "nothing to wear" selfie on their own accounts. "We are more than just our bodies but that doesn't mean we have to be shamed for them or our sexuality #liberated" Ratajowski said in the caption.
With such a bold and outspoken sense of self-confidence, Ratajkowski would 100 percent be one of the coolest "cool moms" out there. But while some may be wondering why doesn't she have any kids to pass that no-nonsense attitude onto, it's safe to assume that she's already doing a bang-up job of helping the next generation along just fine.
In the past, Ratajkowski has also made statements about being career focused, which could explain her current no-kids status (not that she needs to explain it, of course). Ratajkowski, who got her claim to fame from starring in Robin Thicke's "Blurred Lines" music video has since acted in films such as the David Fincher directed film Gone Girl and co-starred alongside Zac Efron in We Are Your Friends. One look at her page on IMDB shows that Ratajkowski isn't slowing down anytime soon either, as she is currently filming and starring in a new Netflix series titled Easy.
When she isn't focusing on her career, Ratajkowski is also advocating for women's rights and female empowerment. Recently, she followed Bernie Sanders on the 2016 presidential campaign trail, giving a speech at a New Hampshire rally for Sanders and endorsed him on Instagram wearing the best Bernie Sanders sweater you'll ever see.
While there might not be any children on Ratajkowski's horizon, she is currently and happily spending her own personal time with boyfriend of one year, musician Jeff Magid. But if Ratajkowski does decide to become a mom, whenever that time may be, I am sure she will be a terrific one.