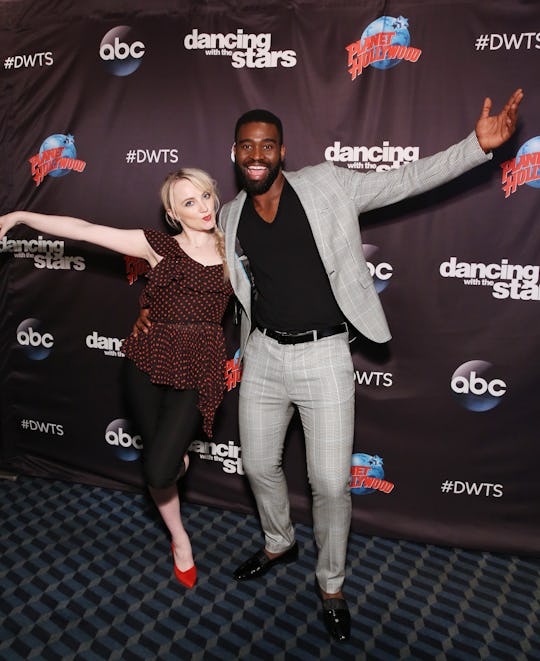 Robin Marchant/Getty Images Entertainment/Getty Images
Evanna Lynch Looks *Magical* On 'DWTS'
The Season 27 Dancing With the Stars celeb lineup is a mishmash of TV, Olympian, radio, and movie personalities alike. Among them, a Bachelor fan favorite, an R&B singer, and a fictional witch, Evanna Lynch, who played the magical Luna Lovegood in four of the Harry Potter franchise films. Along with seasoned partner (since Season 19), Keo Motsepe, Lynch will attempt to dance her way to victory (or is it magic?)But HP fans and the world alike are wondering, does Evanna Lynch have dance experience?
While all experience is relative, Lynch told E! Online she danced in one of the Harry Potter films, adding she's going to "turn it into an amazing move." Whatever that means, the 27-year-old Irish actress has our attention. Maybe it's not the kind of experience a professional dancer has, but that dancing in Harry Potter and the Deathly Hallows Part 1 kind of counts, right? Plus, as the fan website Wizards And Whatnot explains, Lynch wants to learn how to dance and enjoys being pushed outside of her comfort zone. This seems like the perfect opportunity for her to do just that.
Lynch is most known for her role as the delightfully eccentric (an un-apologetic) Luna, who didn't quite fit in at Howart's (maybe it was the imaginary animal talk, IDK). And the HP community is rallying behind her on, and off, the dance floor. Plus, super-pro, Motsepe, is excited for the same fans to see Evanna's personality as more than the Potter legacy she left in Luna. Lynch agrees. According to Teen Vogue, she's ready to move beyond her fictional counterpart. "I need to push myself as an artist more," she said. Because of that, she's taking a break from all things Potter, which includes conventions. Lucky for us, we've been blessed with DWTS — no spells required.
If you're still wondering who Evanna Lynch is, no worries. Aside from the wizarding world in which she gained the most prominence, Daily Mail UK gives the full run down. She's an an ambassador for J.K. Rowling's charity, Lumos, an actress in other small roles, serves as an advocate for eating disorder recovery, and is a member of the Harry Potter Alliance's Board of Advisors. Though a lot of her bullet points include the HP franchise, there's many more layers she's ready to show. Lynch describes herself as "very fiery" and we're sure to see that side of her this season. Early interviews indicate she and Motsepe vibe so we may get to witness that chemistry on the dance floor, maybe all the way to the finish.
As far as the competition itself, this season's a toss-up. With no clear frontrunner, it's anyone's game. From a purely technical standpoint, Lynch completed the 2016 New York City Half-Marathon to raise awareness for the World Animal Protection, according to People. Having a background in mega-cardio may give her a slight edge. Fans of the quirky Luna Lovegood are already clamoring for her first performance. Just don't expect to see any Potterverse thematics to grace the stage. Still, we can hope.
Regardless of how much experience Lynch has in the real world with dancing, that "very fiery" confidence may be the key to pushing her through the end. Would Luna Lovegood approve of such a competition? Abso-freakin-lutely. Especially if Lynch walks away with grand the mirror ball trophy. And if she and Motsepe don't win, I think a collective Wingardiaum Leviosa is in order. For good measure, of course.