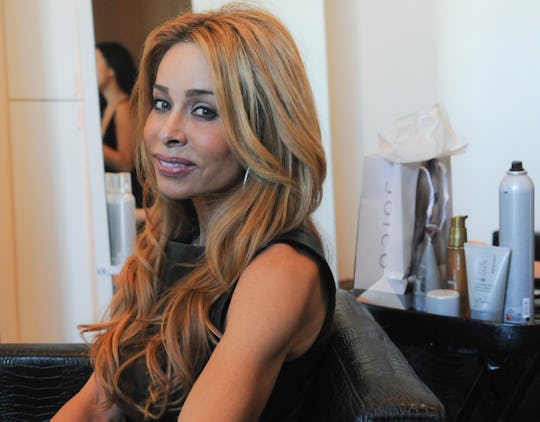 Vivien Killilea/WireImage/Getty Images
Does Faye Resnick Regret Writing Her Book About Nicole Brown Simpson? She Hasn't Said Much About It Recently
After Nicole Brown Simpson was murdered, close friend Faye Resnick didn't stay quiet. Instead of retreating from reporters, she published a book. Nicole Brown Simpson: The Private Diary of a Life Interrupted was a controversial addition to the conversation surrounding O.J. Simpson's murder trial, but Resnick claimed that she just wanted to share what she knew. After years of being maligned in the media for allegedly capitalizing on a horrific case, does Faye Resnick regret writing her book about Nicole Brown Simpson?
Resnick doesn't seem to be talking about the book itself lately, but she did share her thoughts on the new FX series that tells the story of the Simpson trial all over again. Resnick spoke exclusively to People about The People v. O.J. Simpson: American Crime Story recently, explaining she was distressed by the need to relive the trial:
All I can say is, for me, it was personally the most heartbreaking tragedy that altered my life forever. On average, two women every week die from domestic abuse. To lose my loving friend Nicole, who seemed at one point to defy these odds, is beyond devastating. The thought of reliving the events of her death and the trial that followed is catastrophic for all who knew and loved Nicole and Ron.
She went on to say that she hopes American Crime Story will raise awareness about domestic abuse in the United States and serve as a "call to action" to increase support of, and resources for, victims. "Instead of opening painful wounds for many people, or becoming a pointless media circus, I'm hoping this series serves as another chance to remind the American public that domestic abuse remains a lethal issue, even 22 years after this nightmare," she told People.
When Simpson was charged, Resnick was open in her belief that the NFL star had allegedly killed his ex-wife, even publishing her book about Nicole in the midst of the trial (the book accused Simpson of abusing Nicole, allegations for which he was never convicted). Resnick faced backlash for her decision to publish her story, People reported in 1994; The defense claimed that she'd lied multiple times in the text, and the prosecution worried that potential jurors would read the book and make up their minds about the case before hearing evidence.
For months after its release, Resnick told The New York Times that she was a "prisoner"of her own book, given its high-profile nature and the public's knee-jerk reaction to the account. "I lock my door every night, and whenever [my assistant] takes a steam bath," she told the paper at the time, claiming that she felt afraid to leave her house, out of fear that one of Simpson's supporters would come after her. "... I'm a prisoner, but thank God it's a very nice prison." Resnick has not spoken about the book itself openly of late, preferring to focus on the issue of domestic violence in general.
Today, Resnick may be better known for her appearances on Real Housewives of Beverly Hills than for her involvement in Simpson's trial. But with American Crime Story digging up the past, she may not be able to so easily escape her decision to publish after all.