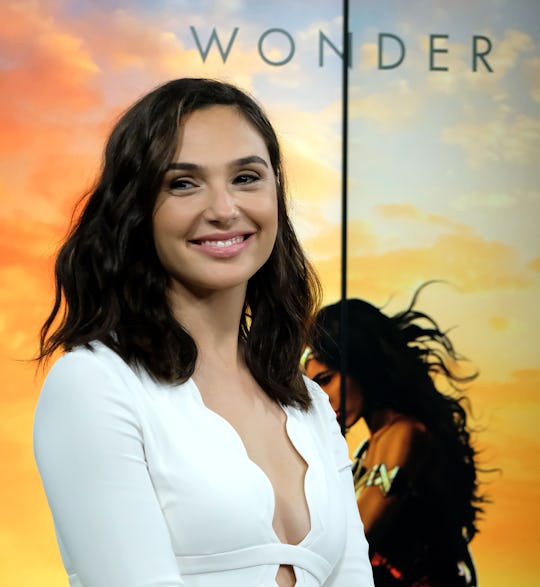 Theo Wargo/Getty Images Entertainment/Getty Images
Does Gal Gadot Want More Kids?
The last few weeks have been full-on Wonder Woman mania, thanks in no small part to the movie's amazing star, Gal Gadot. In addition to kicking butt onscreen and inspiring women across the world, Gadot is a mother to two daughters. But many fans want to know, does Gal Gadot want more kids? Although she has made it clear how much she loves her family, she hasn't been super-open about whether or not she wants to expand it further. And hey, she's definitely got a lot on her plate right now.
Gadot and her husband, Yaron Versano, have two children, 6-year-old Alma, and Maya, who was born in March. (Side note: how does Gadot manage to be so glamorous, charming, and awake on the talk show/red carpet circuit with a 2-month-old at home? She's a wonder woman indeed.) In interviews and on social media, Gadot has been totally effusive about her recently-expanded family, gushing over how much she loves being a mom. After Maya's birth, Gadot posted a picture on Instagram of the family taken from the back, writing, "And then we were four... She is here, Maya. I feel so complete blessed and thankful for all the Wonders in my life #family #newborn #grateful"
And Gadot told news.com.au back in a May interview that she felt "like Wonder Woman" when she gave birth, adding, "When you deliver, you feel like you're a god. Like, 'Oh my God, I made this!' The best thing is to become a mother and to give life."
Although she's gushed plenty about her family, Gadot hasn't talked much about whether she wants to add more children to the mix. And given that she just gave birth, and that her career is blowing up, it makes sense that having another baby would be the last thing on her mind right now.
In addition to being a big fan of motherhood, Gadot's also dedicated to her work, and she's got plenty to be proud of there. Wonder Woman opened to $100 million its first weekend in theaters, smashing box office records and generating generally positive reviews. Many women have been moved by finally getting to see a non-sexualized, empowering female superhero saving the world. And just try to look at these pictures without your heart growing three sizes bigger.
With the news that a Wonder Woman sequel is on the way, it seems inevitable that Gadot's life is going to get even busier. So it certainly won't be a shock if she decides that two is the perfect number of kids for her.