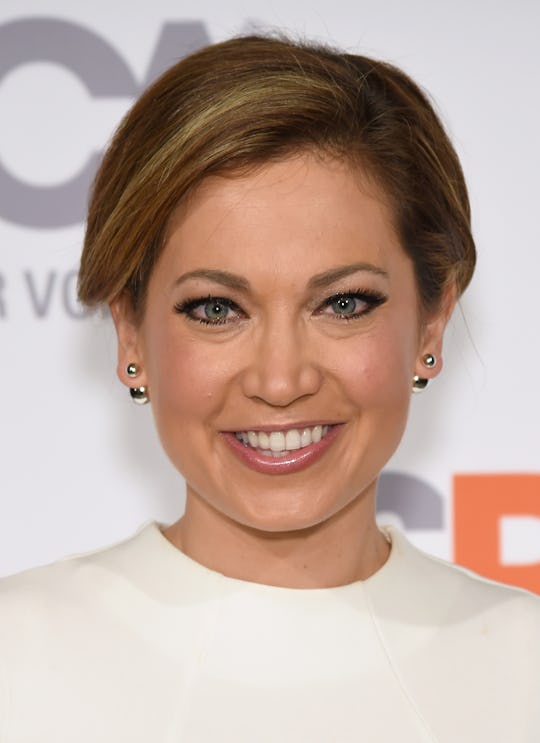 Dimitrios Kambouris/Getty Images Entertainment/Getty Images
Does Ginger Zee Have Dance Experience? No, But She's Shockingly Dedicated To Learning
Good Morning America meteorologist and new mom Ginger Zee wowed fans during the premiere of Dancing With the Stars Season 22 on Monday, performing a jive that earned her a score of 23 out of 30, tying for first place with Boyz II Men's Wanya Morris and former America's Next Top Model winner Nyle DiMarco. Many fans are wonder, does Ginger Zee have dance experience? Yup, a whole two weeks' worth! According to Zee's ABC blog, she has "very little dance experience and zero ballroom experience." She trained hard with her DWTS partner, Val Chmerkovskiy, for two weeks before the premiere, which added up to about 28 hours worth of rehearsals.
After all that rehearsing, Zee said her feet were "screaming," she'd lost feeling in some of her toes, and at one point, Chmerkovskiy actually had to be the one to break it to her that her feet were bleeding. Girl, why? Why do that to yourself? Zee called the opportunity to appear on DWTS "a dream come true," and said she's "so fortunate to get the chance to learn to dance," according to ABC. I feel like maybe there's a less brutal and boot camp-esque way to learn to dance, but you do you, honey.
It seems like those two weeks really paid off, though; DWTS judge Carrie Ann Inaba compared Zee's performance to Season 21 winner Bindi Irwin, calling her "phenomenal," "infectious," and "pure joy." That's some high praise. Irwin didn't seem to mind the comparison, either; she later tweeted at Zee and Chmerkovskiy praising their "[t]ruly beautiful work."
In addition to the grueling, toe-destroying dancing, Zee has a few other things going on to keep her busy: she's still the chief meteorologist for ABC News, appearing on Good Morning America every morning, and she'll be commuting between New York and Los Angeles every week in order to appear on DWTS. Don't expect her to be napping on the flights, either; she's too busy pumping in the airplane bathroom. You see, Zee also has a newborn at home – her son, Adrien, was delivered via c-section in December.
Keeping that in mind, go ahead and watch this video of Zee and Chmertkovskiy dancing. When he bends her over backwards, all I can think is, "Ack! Your stitches!" Pretty sure I was still on ibuprofen three months after my c-section. I literally can't even with this woman. How does she do it? Zee's answer: "I have the best support system, friends, family and my baby behind me. I am inspired by all the other mothers who have taken on this much and more. If they can do it, so can I." Well, all right then. I'll just be over here getting overwhelmed by having to both cook dinner and fold a basket of laundry.