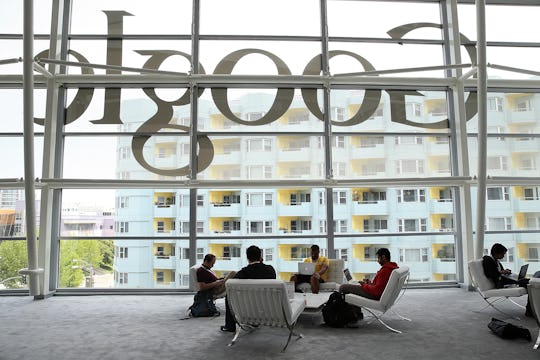 Justin Sullivan/Getty Images News/Getty Images
Google Accused Of Underpaying Its Female Employees
Given that April's Equal Pay Day just reminded everyone that the gender pay gap is still cause for concern, recent pay allegations against a company of over 57,000 employees are being given a little extra scrutiny. So does Google underpay its female employees? A years-long audit and investigation with the Department of Labor (DoL) has resulted in some concerning claims, namely the "compelling evidence of very significant discrimination against women in the most common positions at Google headquarters," according to DoL regional solicitor Janet Herold.
On Friday, Janette Wipper, a DoL regional director, brought the above allegations to a San Francisco court. Romper has reached out to Google for comment on the matter and received the following statement:
We vehemently disagree with Ms. Wipper's claim. Every year, we do a comprehensive and robust analysis of pay across genders and we have found no gender paygap. Other than making an unfounded statement which we heard for the first time in court, the DoL hasn't provided any data, or shared its methodology.
Upon the release of the DoL's allegation, Herold responded to The Guardian's request for comment, insisting that "the government's analysis at this point indicates that discrimination against women in Google is quite extreme, even in this industry." These testimonies are a part of a lawsuit from the DoL against Google, with the DoL's ultimate request being that Google "provide requested compensation data and documents for the multinational company's Mountain View headquarters as part of a routine compliance evaluation." Google has resisted these requests, claiming that they are too broad and also threaten the privacy of its employees.
Google has continuously refuted these statements, citing its work to actually reduce the gender pay gap. On Equal Pay Day, Google tweeted out its thorough suggestions for "designing and auditing fair pay practices" so as to achieve "more equitable workplaces." Those resources can be found below:
Due to Google's resistance to "share the requested compensation data and documents" with the DoJ, the government organization has in turn "requested that the government cancel its contracts with the company and block them from future government work." Until the investigation is concluded, though, it appears that for now, it's just Google's word against the DoL's.
Wipper's seeking more information from Google is, in her terms, an effort to fully comprehend the scope of Google's alleged pay difference; "We want to understand what's causing the disparity," she shared with The Guardian. If Google's history of equal pay activism is any indication, though, the company would want to correct any disparity, should it exist. But until these claims are founded, and supported by data, little can be done.