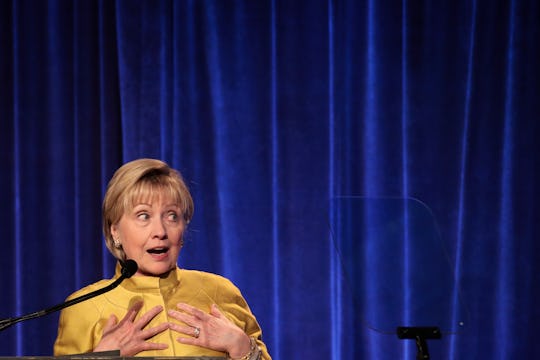 Drew Angerer/Getty Images News/Getty Images
Hillary Clinton Criticized For Not Taking Enough Blame
Despite the fact that the 2016 election was almost seven months ago, Americans are still analyzing and debating the surprising results. Not only is President Donald Trump seemingly obsessed with showing off his win to anyone who will listen, allegedly going as far to print out an electoral map for reporters in April, but he's also still tweeting about his former opponent's alleged lack of personal responsibility in the outcome. In fact, a lot of recent articles have also questioned the culpability of Trump's adversary, claiming the Democrats' 2016 nominee continues to absolve herself of all blame. So, does Hillary Clinton think losing the election was her fault?
Following the election results on Nov. 8, Clinton conceded to Trump with her running mate Virginia Sen. Tim Kaine and husband former President Bill Clinton by her side. Although the speech pointed fingers at specific events leading up to the election, Clinton did something no losing candidate had ever done in a concession speech before — she apologized.
In a CNN transcript of the speech, Clinton said:
Last night, I congratulated Donald Trump and offered to work with him on behalf of our country. I hope that he will be a successful president for all Americans. This is not the outcome we wanted or we worked so hard for and I'm sorry that we did not win this election for the values we share and the vision we hold for our country.
In addition to apologizing to the American public, Clinton allegedly apologized to Barack Obama. According to aWashington Post review of the book Shattered, Clinton allegedly apologized to Obama during a consolation call:
Mr. President, I'm sorry.
Considering an apology implies accountability, it contradicts the narratives touted about by various publications stating Clinton has yet to take responsibility for her loss. Just on Thursday, CNN Editor-at-large Chris Cillizza wrote an op-ed titled, "In election blame game, it's time for Hillary Clinton to take her share."
As for the "blame game" accusations, it's true that Clinton has pointed fingers in the direction of certain factors and people, including former F.B.I. Director James Comey and his decision to to re-open the investigation into her private email server just 11 days before the election took place. At the Women for Women International event in New York on May 2, Clinton said, according to CNN.
If the election had been on October 27, I would be your president.
In a conversation with donors following the results, Clinton also allegedly said, according to The New York Times:
There are lots of reasons why an election like this is not successful... our analysis is that Comey's letter raising doubts that were groundless, baseless, proven to be, stopped our momentum.
It's important to note, however, that each time Clinton points a finger, she also points one back at herself. According to CNN, Clinton said this at the same Women for Women International event in New York on May 2:
Of course I take absolute personal responsibility. I was the candidate. I was the person on the ballot. I was on the way to winning before a combination of [James] Comey's letter on Oct. 28 and Russian WikiLeaks raised doubts in the minds of people inclined to vote for me but got scared off. Did we make mistakes? Of course we did. Did I make mistakes? Oh my gosh, yes, you'll read my confession and my request for absolution. But the reason why I believe we lost were the intervening events in the last 10 days.
Although Politico released a poll showing Clinton led Trump 46 percent to 43 percent just days before the election while also arguing Comey's letter bore little to no influence on voters, it still remains a plausible reason for why Clinton lost. It's also possible and even reasonable for Clinton to partially accept blame because accountability isn't always a black and white concept. The more important question is, why is the media stating inaccurate comments about Clinton's alleged lack of responsibility? As evidenced by Clinton's own words, this is clearly not the case.
On May 31, Chelsea Clinton had a run-in with this exact allegation during an appearance on The View. During the segment, conservative co-host Jedediah Bila asked about the issue of responsibility and said, according to FreeBeacon.com:
A lot of her supporters felt that they wanted to see more from her in that moment. They wanted her to take some personal responsibility for voters' trust issues with her, for maybe the Democratic Party not having a great ground game in some states and not having messaging in some states that was really good so that they can fix the problem moving forward. Has she changed her mind about how to approach this topic, to kind of ease her supporters' worries and maybe facilitate growth for the party in the future?
In the clip below, Clinton tackled the issue as best as she could:
As America continues to pick up the pieces following the 2016 election, it's likely these questions and accusations about Clinton won't die down. Whether the false narrative about Clinton's supposed lack of responsibility stems from shock, disappointment, and the need to have someone to blame for Trump's administration, it's clearly misguided. There's only so many times Clinton can say "sorry" or reiterate that she does in fact take responsibility for what occurred. Hopefully Americans can one day move on.