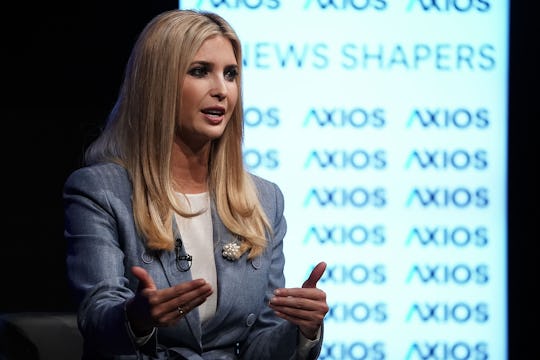 Alex Wong/Getty Images News/Getty Images
More Kids Just Might Not Be In The Future For Ivanka Trump
Whether you love them or you hate them, it's difficult to deny that Ivanka Trump and her husband, Jared Kushner, have high-profile roles at the White House. Not only are they the First Daughter and son-in-law, but the power couple also happens to be among the president's senior advisors. So in theory, they have a fair amount of sway when it comes to Donald Trump's policies. (With that said, Trump tends to mostly follow his own advice. So who knows?) With such a prominent role under the current administration, and with three young kids at home, it's probably safe to say Ivanka has quite a lot on her plate these days. But does Ivanka Trump want more kids? The First Daughter seems to be content focusing on her While House role for the time being.
As E! Online previously reported, Ivanka Trump and Jared Kushner welcomed their third child, a son they named Theodore, in March 2017 — smack-dab in the middle of the 2016 presidential election. They were already parents to Arabella, 4, and Joseph, 2, at the time. Fast-forward nearly a year and a half later, followers of the power couple are probably wondering if there are plans for any more children in the future. After all, their three kiddos are spaced roughly two years apart — so Trump and Kushner are "due" for another baby soon, if they ultimately want to add to their family, right? Or, maybe not. Let's take a look at the speculative "evidence," shall we?
It's difficult to say for sure whether the power couple is planning to add to their family of five anytime in the near future — especially when adjusting to three kids seemed particularly rough for them. As Ivanka told People back in July 2016, adding baby number three wasn't exactly a seamless transition. "My life is chaotic right now," she told the publication. "I'm exhausted 90 percent of the time. Being a mother is the most rewarding experience, but also the most wild and stressful." Despite her fatigue, the entrepreneur and businesswoman said she's strived to spend individual time with each of her kiddos.
I think everyone has to work extra hard to make the older siblings feel loved and secure of their place when you're going through a time of transition. I try to carve out special time with each of them. Joseph loves playing with cars. Arabella could read with me for hours. Poor Theo. He's always the one where they're interrupting his time with me. But ultimately I think it will be good for him.
Another hint that baby number four might not be on the horizon for Ivanka Trump? In July, she announced that she was closing down her fashion business for good, NBC News reported. "When we first started this brand, no one could have predicted the success that we would achieve," Trump in a statement to the news outlet. "After 17 months in Washington, I do not know when or if I will ever return to the business, but I do know that my focus for the foreseeable future will be the work I am doing here in Washington, so making this decision now is the only fair outcome for my team and partners."
So, yeah. Considering Ivanka Trump was already stretched pretty thin after welcoming her third child — and considering that she recently closed her fashion business to focus on her White House duties — I'm guessing another baby isn't in the future for her and Kushner anytime soon. (Then again, maybe since Ivanka is no longer in the fashion business, the idea of a fourth child doesn't seem as daunting?) Because neither Ivanka nor Jared have publicly spoken on whether they'd like to have more children in the future, it's difficult to say for sure one way or another. It would make sense, logistically, if the power couple was simply waiting to see how the next election season plays out — and whether they'll be committed to another four years of senior advisor duty. Only time will tell!