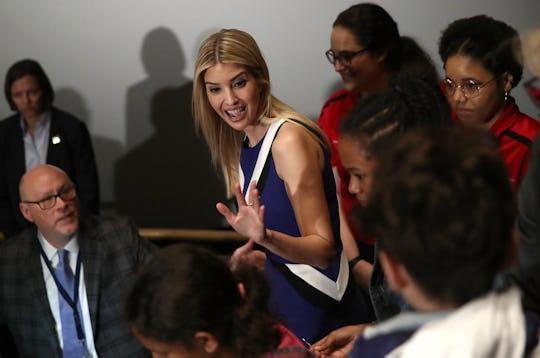 Win McNamee/Getty Images News/Getty Images
Does Ivanka's New Role Violate Nepotism Laws?
It's never been a secret that Ivanka Trump has long been one of her father's most trusted business advisers. But after months of speculation (during which she stepped down temporarily from her roles in the Trump organization as well as in her own companies), Ivanka's new role in the White House has now become official. According to The New York Times, it was confirmed Wednesday that President Donald Trump's eldest daughter will be made an unpaid White House employee serving as an assistant to the president. Does Ivanka Trump's new role violate nepotism laws? It has been virtually unprecedented for the POTUS to have a relative take on an official White House role, and yet, both Ivanka and her husband Jared Kushner have done so (Kushner is a senior adviser to the president). Ethics experts have criticized the appointments, but the Trump administration has said that a 1967 anti-nepotism law meant to bar public officials from hiring or promoting their relatives does not apply in the case of Ivanka's new role.
Why is Ivanka considered exempt? It seems to come down to legal interpretation of the law itself. According to CNN, the restriction on the employment of relatives states, for one, that anyone employed in violation of the law "is not entitled to pay," and that "money may not be paid from the Treasury as pay to an individual so appointed." One important detail of Ivanka and Kushner's advisory roles though? Neither of them are actually being paid to do it.
According to Reuters, it was first announced March 20 that while Ivanka would indeed be taking on a role in her father's administration, it would be unofficial and unpaid. Although it seems that the unofficial nature of the position was meant to alleviate public concerns over nepotism or impropriety, it actually led to more criticism — specifically because Ivanka would essentially be performing the role of an employee, without being held to the same rules and standards that actual employees are.
In a recent letter to White House Counsel Donald McGahn, a number of watchdog groups called for Ivanka's unofficial role to be challenged, claiming that it was a "highly unusual and inappropriate arrangement," according to Democracy 21. Former White House ethics lawyers Norman L. Eisen and Richard W. Painter were among those who signed the letter, and in it, they argued that the arrangement "appears designed to allow Ms. Trump to avoid the ethics, conflict-of-interest and other rules that apply to White House employees."
In a statement Wednesday, Ivanka responded, and said she would be becoming a White House employee after all. According to The New York Times, Ivanka said,
I have heard the concerns some have with my advising the president in my personal capacity while voluntarily complying with all ethics rules, and I will instead serve as an unpaid employee in the White House Office, subject to all of the same rules as other federal employees.
But while that decision may have allowed her to work around the criticism specifically aimed at her previously-voluntary position, it still does not actually clarify whether it was even legal for her (or her husband) to even be given a position in the first place. Members of the Trump administration, however, have argued that it shouldn't be considered a problem.
According to The Independent, Trump presidential campaign spokesperson Jason Miller recently told CNN's Alisyn Camerota that he didn't at all consider Ivanka's appointment to be nepotism, because the fact that she wasn't receiving a salary meant that she would be "volunteering her time and effort for the good of the country." Furthermore, Miller said that "everybody from the White House counsel to the [Department of Justice] has said that this doesn't violate any sort of nepotism rules."
While it's unclear whether that's actually the case, the Department of Justice Office of Legal Counsel's Daniel Koffsky said in January that, even without considering the issue of pay, the reality is that the President has a lot of leeway when it comes to hiring. According to CNN, Koffsky said, "in choosing his personal staff, the President enjoys an unusual degree of freedom, which Congress found suitable to the demands of his office." Furthermore, Koffsky argued that the laws surrounding nepotism in government applied specifically to "executive agency" appointments, and that the White House Office is not legally considered an executive agency. In other words? Even if the roles given to Trump's daughter and son-in-law seem like a pretty clear example of nepotism, legally, it can be argued fairly easily that they aren't.
Of course, the legal interpretation isn't likely to ease the concerns of those who feel as though Ivanka's now-official role is still a huge overstep. It's perhaps encouraging to know, at least, that as a government employee she will theoretically be held to more stringent standards and expectations. But then again, the administration's seeming reluctance towards actual transparency doesn't exactly inspire a ton of optimism about the ethical implications of having the president appoint two of his own relatives to key advisory roles.
Even without the formality though, Ivanka Trump has always been one of the President's most trusted confidants. Her West Wing office and new unpaid position might make her more visible, but there's little doubt that, one way or another, she was always going to be closely involved.