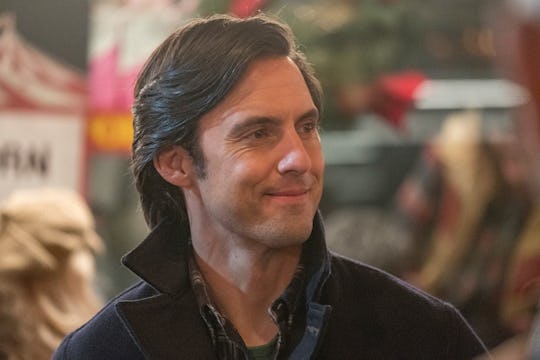 Ron Batzdorff/NBC
Jack's Time In Vietnam *May* Reveal How Nicky Dies On 'This Is Us'
Everyone knows Tuesdays are for tears, thanks to new episodes of This Is Us. And honestly? I love it. Bring me every box of tissues and step aside so I can immerse myself into all things Pearson. It's totally normal to talk about This Is Us characters as if they're you're actual family which is why I'm stressing pretty hard about what's to come next. Like, does Jack's brother Nicky die in Vietnam on This Is Us or are we about to get a huge twist? To be clear, I'm in either way.
The mystery of Nicky Pearson (played by Michael Angarano) and his supposed death in Vietnam will unfold throughout Season 3. A previous show's flashback revealed a uniform-clad Jack (Milo Ventimiglia) holding an injured (dead?) person in his arms. The person is assumed to be Nicky, but again — This Is Us knows how to pull one over on fans. That's why this show owns my whole heart for infinity and beyond. When asked about siblings during an awkward first date with Rebecca (Many Moore), Jack confessed he had a brother who died in the war. Still, I'm not sure I buy it. The phrase may not be literal. Some theories suggest Jack meant the version he knew of Nicky died in the war. I can get on board with that, especially after Ventimiglia told EW Nicky's going to deal with demons and things that maybe aren't so easily told in the span of a first date [with Rebecca]. It's all pretty heavy, TBH.
Tuesday night's teaser shows a few shots of Jack in Vietnam but it's still unclear if there will be a clear answer about a) who Nicky is, b) how he dies, and c) how this all affects Jack (or vice versa). Nicky was first mentioned in Season 2 in a flashback showing Jack and Nicky's childhood with their alcoholic father. The scene revealed the two waiting in the car for their father. "Don't worry Nicky, I'm not going anywhere," Jack told a young Nicky. It was only later, when Jack pulled out an old, metal tin, did viewers get the first hint at what may have happened to Nicky. Jack was staring at an old photo of servicemen in the war and though the focus is on Jack, the young man next to him has a uniform that says "Pearson." Thus, Nicky Pearson became a new mystery to unravel and a new reason I can't sleep at night until there are answers.
In the Season 3 premiere, the war is brought up again while Jack is on his first date with "the" girl (aka Rebecca) when he said he doesn't like to talk about it because it makes him "sad" and "angry." All of this combined raised a slew of questions surrounding Jack's life before Rebecca and the Pearson kids because he rarely spoke about Nicky, his upbringing, or his relationships prior to becoming the Jack fans know and love. It's almost like there are two versions of Papa P: the younger, more troubled version trying to survive life the best he can and the stoic, resolute man he grows into. But something had to have happened to trigger the transformation, and I think Nicky — above everyone else — is the answer.
According to an interview with Entertainment Weekly, creator Dan Fogelman teased more about what will be revealed on TIU this season, namely why Jack's past is an important piece of Nicky's story. "Jack has clearly got a complicated childhood and a complicated past, and a complicated past specifically in Vietnam. He's clearly a guy that wears everything on his sleeve with his family, but also a guy who everything that came before the family has been a bit of a mystery and a secret." He concluded by saying "You'll get a fuller picture of Jack by learning about what happened to him before we actually met him."
If you really dig deep into TIU fandom theories, it helps to know how the cast reacts to discovering what becomes of their characters first. Justin Hartley, who plays adult Kevin Pearson, called the revelations he uncovers about Jack's time spent in Vietnam "super-heartbreaking." That only makes me need answers that much sooner. "It's not what anyone is expecting," he said. "No one is going to see it coming. It's ambitious stuff…. Here's the cool thing about it: At the end of Season 3 when you go back and watch the beginning of the series, you're going to [be] like, 'Wow, it all works,' but you never would see any of this coming. I don't know what those writers are eating, but it's brain food. They're brilliant."
Ventimiglia said the relationship between Jack and Nicky is a special one so get ready for a gut-punch. "They're very close," Ventimiglia said. "They had that shared experience of being raised by their father, so they really had to look out for another, but they also are different spirits." And while that only gives small clues about what to expect, he went on to say, "Jack is very much still the older brother that looks out for his younger brother. At the same time, in what I've read so far of those scenes, Jack leaves room for his younger brother to be his own man and to stand up for himself. But Jack kind of can't help but always want to do better for his brother."
You know what This Is Us writers want you to know until the grand reveal and Tuesday's episode may or may not play some part in it. Whether Nicky dies in Vietnam or sometime after (or if never physically dies at all), the events during the war alter who Jack is, good and bad. Much like The Butterfly Effect, it's sad to think if he hadn't gone through those pains, he wouldn't become the hero to his family (and make the ultimate sacrifice in that fire for them). If that's not enough to make you sob, you should probably go back and watch the series from the beginning. But first, grab the tissues.