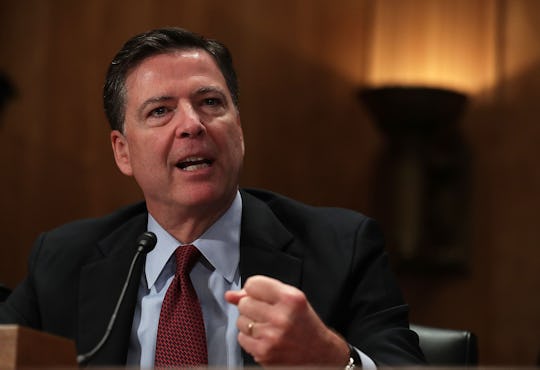 Alex Wong/Getty Images News/Getty Images
Does James Comey Have Ties To Donald Trump? Trump Has Criticized Comey In The Past
It is never too late in the month for another "October surprise." On Friday, FBI director James Comey wrote, in a letter to Congress, that the FBI is reviewing new emails related to Hillary Clinton's server. With just 11 days until the election, people are questioning the timing of the statement and wondering does James Comey have ties to Donald Trump? Unfortunately, until Comey or Trump comes out with a statement of some kind, it is something that the American public won't know.
But here is what the public does know. According to The New York Times, emails sent from Clinton's private server were found on shared electronic devices belonging to Anthony Weiner, a former congressman, and his wife, Huma Abedin, aide to Hillary Clinton. According to Comey's letter, the emails "appear to be pertinent to the investigation." To say that Trump has had mixed feelings on Comey is an understatement — in the past, Trump has criticized the FBI and how it handled the Clinton email investigation, alleging that the investigation was rigged. Despite their rocky history, does Trump have any ties to Comey that would have allowed or incentivized Comey to drop such a metaphorical bomb just 11 days before Election Day? The jury is still out on that one. Trump's representatives and the FBI Press Office did not respond to Romper's request for comment.
At the same time the letter was released to the public, Trump was praising the FBI for looking into these new emails at a campaign rally in New Hampshire, according to TIME:
The FBI has just sent a letter to Congress informing them that they have discovered new emails pertaining to the former Secretary of State, Hillary Clinton's investigation. And they are reopening the case into her criminal and illegal conduct that threatens the security of the United States of America. Hillary Clinton's corruption is on a scale that we have never seen before...I have great respect for the fact that the FBI and the Department of Justice are now willing and have the courage to right the horrible mistake that they made.
But despite this praise, Trump had immediately criticized Comey in July after Comey announced that the FBI did not recommend charges for Clinton for her emails. Trump immediately took to Twitter to call out the "rigged system."
But if Comey and Trump don't have a relationship, this release of Comey's letter to Congress seems to come at such a critical (and strange) time. The wording in the letter is incredibly vague and makes the discovery of emails found on Weiner's devices seem much larger than it is — though the emails are just "pertaining" to the investigation and could really not contain any new or interesting information. With the election just 11 days away, any wording of such a letter must be clear and concise, and that's something Comey, of all people, would be aware of. In fact, the statement's release was so off that The Democratic Coalition Against Trump filed a complaint with the Department of Justice that Comey's opening an investigation into Clinton's emails "interferes with the election."
One person who definitely does have ties to Comey is former Mayor of New York Rudy Giuliani. Giuliani was Comey's boss when Giuliani was the U.S. Attorney of New York's southern district. At that time Giuliani hired Comey in 1987 as an assistant, according to New York Magazine. Currently, Giuliani is a top advisor for the Trump campaign, which gives Trump a connection — albeit a pretty cloudy one — to Comey.
While Comey and Trump's connection is about as vague as Comey's wording in his statement from today, one thing is for sure — the Trump campaign is already capitalizing on the FBI's decision to review the Clinton case, sending out this text message to supporters:
The timing of Comey's look into these emails could not be more confusing and critical. As millions of Americans head to the polls to partake in early voting and prepare themselves for Election Day, one can't help but to think about a potential relationship between Trump and Comey.