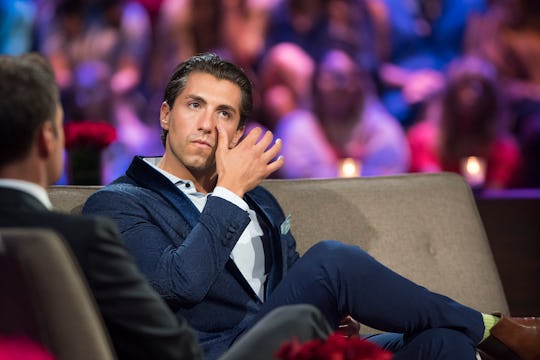 Paul Hebert/ABC
Jason's Not Playing Around With His 'Bachelor' Campaign
Now that Jason is eliminated from The Bachelorette, Bachelor Nation has one question: is he the next Bachelor? Another question they should be asking is: does Jason want to be The Bachelor? Judging from his interviews lately, the answer seems pretty clear to me.
Jason has told multiple sources that he doesn't necessarily want to be Bachelor, but he is open to it. In an interview after the "Men Tell All" taping, Jason told Extra TV, "It's humbling that people are even having that conversation. The whole idea of having fans and support is new to me." Jason also said producers "have a long list to choose from, and all those people are great people" But he added, "If that was an opportunity that presented itself, absolutely would be open to it."
Jason also said he thinks he's ready in a position to have a friendship with Becca — which could mean he's ready for his own Bachelor journey. Furthermore, he says he's "very open and ready to find love again. I think I'm in the best position to do so." Jason said that's all because of Becca. "Becca kinda taught me to lead with my heart and not my calculated mind, and I've never been more connected to my emotions."
Jason told People magazine much of the same: that he's open to being The Bachelor. He said he's "very single" and, "Coming into The Bachelorette, I always led with a calculated mind and not an open heart. He continued, "Now, I'm able to start leading with my heart and not my head. And I'm in the best position to find who I'm looking for now."
It sounds like Jason is at least open to being the next Bachelor but he's right, there's a long list of people producers can choose from. Who knows if The Bachelor will end up being Jason, someone else from this season (even Grocer Joe has people speculating), or someone from another Bachelorette season. As for myself I would much more prefer someone from Becca's season than another old contestant like Nick Viall or Arie Luyendyk Jr., and I hope producers feel the same way.
Even Becca is getting in on the "Jason for Bachelor" campaign. In an interview with HollywoodLife, Becca said Jason is an amazing person and "qualifies" for Bachelor. "He's a standup guy. He's so respectful, charismatic, funny, open. I mean, he has all the qualities to make a great Bachelor," she said. Becca also made sure not to give anything away, adding that, "A lot of those guys do, though."
But not everyone is happy about this prospect. Bekah Martinez, another contestant from Arie's Bachelor season, wrote an essay for Bustle saying she believes Jason is actually campaigning for the lead role. "He's just so clearly vying for the next Bachelor," Bekah wrote. "He's a corporate banker — the man knows what he needs to say and what he needs to look like to get ahead, and America is eating. It. Up."
Well, I agree that he's vying for the job, but who wouldn't be in Jason's position? Jason's doing what most people in third place do (hey, Rachel Lindsay was third place her season and became Bachelorette), so I can't fault him for that. Whether his Bachelor campaign works is yet to be seen, but I love that he and Becca are in good standing so that she will support him should he get chosen.